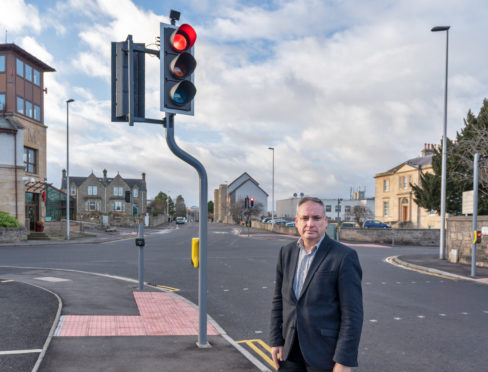 Another revamp of a notorious junction in Elgin will be done "within weeks" amid complaints the current layout is confusing and increasing the risk of accidents.
The council changed the Hay Street and South Street roundabout into a crossroads in May last year to ease congestion and improve road safety – targets it says it has met.
But now the junction is due to get another makeover following reports of collisions and near misses at the road despite the layout being used in hundreds of other locations across the UK.
Motorists warned to expect delays as work begins to transform Elgin roundabout
Yesterday, Moray Council stressed similar changes are "commonplace" when new traffic systems are installed.
Meanwhile, the authority issued a fresh Highway Code reminder to motorists ahead of a green-light filter lane being introduced at the roads.
Moray MSP Richard Lochhead's constituency office is just yards from the office and the politician has reported seeing "many" near misses at the junction.
He said: "Vehicles travelling from either side of South Street, for example, can be heading in three different directions and it's clear that some drivers are confused as to who has right of way.
"Countless constituents have raised the issue with me and it was even mentioned to me by staff at the Dr Gray's A and E department, who have treated patients injured at the junction since the lights were installed.
"I'm pleased the council have looked at what can be done to improve safety and efficiency at the junction and they've agreed to take some action to try and reduce confusion."
Changes to be done at the junction will involve a filter lane and green light for traffic travelling from the west end of South Street to turn right being introduced.
It is hoped the move will ease confusion for drivers muddled by the crossroads while reducing queues during busy periods.
The £500,000 traffic light project was welcomed last year due to the previous mini roundabout layout proving unable to handle the volume of traffic using the roads.
A Moray Council spokeswoman said: "Our traffic team has observed hours of footage of drivers using the junction. This change will help improve traffic flow, in particular to address the waiting times for traffic turning southbound from South Street West, during peak times.
"Drivers heading southbound onto Hay Street from South Street West should note that, in line with the Highway Code, they can proceed when the light is displaying a full green, but must give way to oncoming traffic before making the right turn."