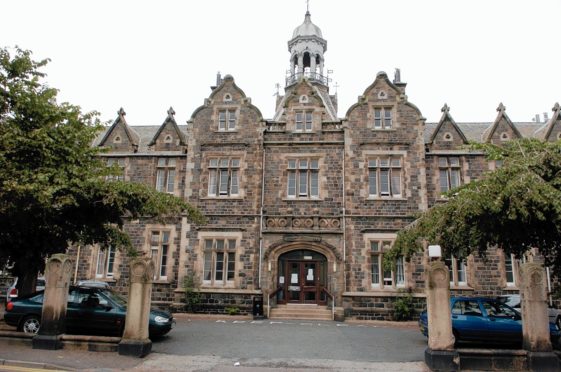 New figures have shown that a Banff minor injury unit which recently had its overnight hours slashed has seen a rise in annual use over the past three years.
The MIU at Chalmers Hospital welcomed 3,930 patients in 2016/17, rising to 4,030 in 2017/18.
That number increased again in the 2018/19 as 4,261 people visited the the Clunie Street unit for care. Incomplete figures for 2019/20 show 2,366 patients have sought treatment there.
These figures have been revealed mere weeks after the Banff-based hospital's overnight hours were axed and have left those campaigning for restoration of 24-hour care "flabbergasted".
The saga began in 2018 when the Aberdeenshire Health and Social Care Partnership began reviewing MIUs across the region.
It recommended that the integration joint board cut the hours of four facilities – one of those being the unit in Chalmers Hospital.
Banff and District Safety Group chairman Richard Menard, alongside his wife Lynn, has been campaigning to reinstate 24-hour services.
He has written to hospital chiefs outlining his concern for people from Macduff, Gamrie, Portsoy, Aberchirder and surrounding villages, as well as Banff, whom he believes will be disadvantaged by the changes.
The safety group has also gathered more than 3,000 signatures from those opposing the cut to the MIU's hours of operation.
When told of the annual figures and how they have risen in recent years, Mr Menard said he was "truly rendered speechless".
He said: "I'm quite flabbergasted that they've chosen to close the unit overnight knowing these figures.
"It's bang out of order. This shows there must be an ulterior motive as, with the figures going up, it goes against everything they told us, as they claimed it wasn't being used.
"To me it feels like they're running everything down in the north-east – all of the amenities – and that we've been forgotten about.
"Banff and Macduff Community Council has invited members of the integration joint board to our January meeting so we can find out more about their decision.
"We're hoping to get some answers then."
A spokesman for the board, when asked about these figures, said they had ensured there would be an "opportunity to monitor the changes" with a six-month review.
He said: "When the IJB agreed the changes to the opening hours of the Chalmers MIU, we also asked for an update paper to come to the Board, six months following the implementation."
One of the arguments used by those passionate about retaining Chalmers' services are the similarities between the Jubilee Hospital MIU in Huntly and Chalmers MIU.
Latest figures show that in the last three years, annual usage of the Jubilee Hospital's unit has gradually dropped from 4,392 in 2016/17, to 4,293 in 2017/18 and 4,044 in 2018/19.
Councillor Ross Cassie has been among those to question why Banff has seen its hours cut while 24-hour care has been retained at the Jubilee.
Fellow councillor Mike Roy said he was "happy" to await the six-month review, but others believe services at facilities such as Chalmers must not be downgraded.
Councillor John Cox said there should be an "all round" review to see where services can be enhanced.
He said: "I fully appreciate we cannot have mini ARIs throughout Aberdeenshire but centralisation is certainly not an option for rural communities."
MP to meet with health chiefs about changes
Banff and Buchan MP David Duguid plans to meet north-east health chiefs in the new year to discuss the impact of the cut to Chalmers' hours.
The Scottish Conservative MP previously campaigned against any changes to the opening hours of the minor injury units in his constituency.
The decision was nonetheless made to adjust the hours at Turriff Hospital and Chalmers Hospital in Banff, with both units closing through the night.
Now Mr Duguid plans to find out more about the effects these cuts will have on residents.
He said: "I campaigned against the changes to the opening hours at the local minor injury units when they were first proposed.
"These facilities are very important to their local communities and there was considerable opposition to any reduction in hours.
"I look forward to meeting with senior staff to discuss the impact of this decision on local residents and the plans for the future of community hospitals across Banff and Buchan."
The background
In 2018, the Aberdeenshire Health and Social Care Partnership launched a major review of minor injury units across the region.
Since then the organisation has been looking at recommendations to improve the care and services at some of the MIUs.
The level of care at facilities in Aboyne, Banff, Huntly, Insch, Inverurie, Stonehaven, Turriff, Fraserburgh and Peterhead were all inspected.
Discussions narrowed in on the units in Aboyne, Banff, Huntly, Stonehaven and Turriff, with proposals for cuts to the hours of operation at each.
The integration joint board – involving Aberdeenshire Council and NHS Grampian – decided in June to overhaul the hours at Aboyne, Stonehaven and Turriff but took more time to deliberate on the Banff unit.
From November 11, the hours at Aboyne Hospital MIU and Stonehaven MIU at Kincardine Community Hospital were cut to 8am to 10pm, seven days a week.
Turriff MIU's opening hours were changed to 8am to 6pm seven days a week.
No changes were implemented at Jubilee Hospital – the Huntly MIU.
It was subsequently announced that, after further discussions, the integrated joint board had chosen to cut the Banff Chalmers Hospital MIU hours to 8am to 7pm daily.
Those changes came into force on December 2.
All of the changes will be reviewed in six months time.