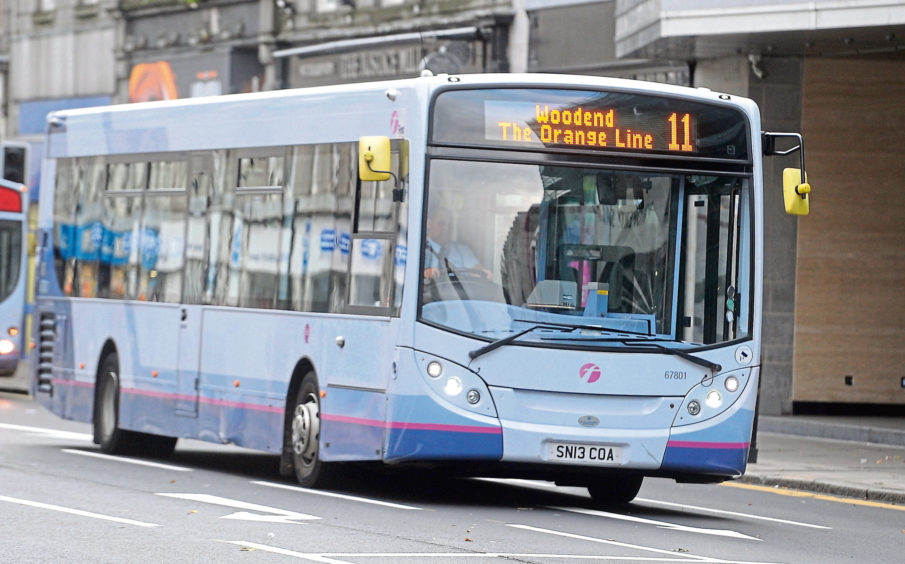 Over the last four months, the number of Scots cycling has rocketed to record levels, and £30 million has been spent to make that as easy as possible. However, in the latest in our Pandemic Pedal Power series, the bosses of Aberdeen's bus firms argue that public transport has an equally important role to play in a greener future.
Aberdeen's bus firms have called on the local authorities to work with them in creating more inclusive and welcoming spaces for people after active travel measures were rushed in to, they say, the detriment of public transport.
First Aberdeen and Stagecoach Bluebird have been unabashed in their criticism of Aberdeen City Council at the end of May when it detailed how it would close part of Union Street to vehicular traffic as part of its Spaces for People programme.
The council received £1.76 million from the Scottish Government to enact a number of changes to the city centre to permit social distancing and to promote active travel methods such as walking and cycling.
But it chose to implement the measured with little-to-no consultation beforehand, prompting a joint statement from the bus firms in response. Both companies have told the P&J how they asked for a seven-day breather before the measures were imposed, without success.
And while Union Street has enjoyed record low levels of air pollution, the managing directors of the transport firms say they feel excluded from the conversation on how mobility could change post-pandemic.
Peter Knight, boss of Stagecoach Bluebird, describes feeling "incredibly disappointed" when the measures were first announced.
"A lot of councils took longer (than Aberdeen) to ensure that the partners were on board. We'd asked whether we could take a seven-day breather to have further discussions so everyone was aware of what we were getting into.
"It's not just us – it's disability groups and businesses."
Andrew Jarvis, managing director of First Aberdeen, was similarly unapologetic in his criticism.
"We're fully supportive of the Spaces for People initiative – it is a really sensible initiative. But initially we were led to believe there would be bus access up and down Union Street," he said.
"We had concerns that this was happening way before retail was even allowed to open. We like to work in partnership (with the council and others) but partners have to listen. It doesn't mean we've fallen out with them but this needed more thinking through.
"Public transport isn't really about 'buses'. It's helping people to be economically active.
"I'm not sure what it says if making sure someone can buy a Frappuccino is more important than making sure they can get back home with their Frappuccino on a bus."
Early drafts of the Union Street plans saw buses given permission to travel the full length of the avenue – but the Press and Journal has learned that an eleventh-hour change saw this idea dropped to ensure pedestrians could gather safely outside popular businesses.
It is understood that NHS Grampian's public health deputy, Chris Littlejohn, had shared particular concerns about the ability of people to socially distance on the stretch between Bridge Street and Market Street.
The health board denies any direct influence over the final decision.
"NHS Grampian did not veto or approve any specific aspects of the programme, leaving the technical issues of how the ambitions of the programme were to be achieved to the experts in town planning and other council departments," a spokesperson for the health board said.
"Ensuring that there is enough space for people to safely queue for buses and to enter reopened venues while others go about their daily business on the footways has been the primary objective of the programme.
"Supporting and enabling active travel and associated reductions in air pollution are also important aspects in relation to the ongoing threat from COVID-19."
The stretch is usually home to eight bus stops and most of Union Streets' most popular stores. Neither bus boss can understand the rationale behind the total vehicle ban, which affected First's punctuality by between 7-8% while the city's traffic adjusted to the new routes.
The change was so last minute that the bus firms were blindsided by the public announcement, having fully expected the road to stay open.
Both Knight and Jarvis say the blockades between Bridge Street and Market Street discriminate against people of impaired mobility, forcing them to travel further to get on a bus.
In addition, the transformation of the outer lanes of the road into "extended pavements" has not seen raised kerbs extended out, stranding wheelchair users or those who cannot clamber on board a bus from road level. The council has responded by creating pop-up raised kerbs at some stops.
Pandemic Pedal Power: Tell us about cycling where you live in our new survey
And while Bluebird boss Knight says few of his drivers have reported problems with cyclists, feeling his drivers are happy to mix with other traffic, Jarvis isn't so sure.
"There's some frustration because I don't think people understand the bus gate signage, there's roads that cars can't go down now and they get stuck, we've had problems with passengers being unable to board at certain stops," he says.
"We've also had a few near misses with cyclists who haven't understood which lane they are meant to use, nearly colliding with people getting off the bus.
"Every one percent of space we lose, it's one percent added onto of our journey times. We can't take that."
Ultimately, they see the lockdown as a watershed moment for the future of transport: a rare opportunity to reshape policy permanently, with benefits for all. Buses, after all, may not be carbon-free – but the latest vehicles need to be carrying just nine passengers to be more environmentally friendly, per head, than a private car.
Pre-Covid, the firms were working with the North-East of Scotland Bus Alliance to draw up a wishlist of bus priority plans for across the region. With £10 million of government funding on offer to test such ideas out, they feel it's not a question of whether buses will get more priority, but when.
Such changes will ultimately come to disadvantage car drivers – but Jarvis feels that, for too long, car users have been spoilt.
"I certainly hope we learn from this," he continues. "We often see people quoted in the papers saying how Country X or City Y is so much better at supporting cycling but what we're poor at is knowing what we want and doing anything to make that happen."
"As a managing director of a bus company I would prefer to have people travel on a bus," Knight says, laughing.
"But we are completely not anti-car. We have a range of bus services that can really meet the needs of car users and non-car users alike. It's about ease. How do we encourage people to make that switch?
"It's fair to say that we are addicted to the car. We prefer travelling by car, helped by cheap city centre parking.
"But if we can get people sitting in their cars, watching buses speed by in priority lanes, might they want to make that shift? It's about making the bus a credible alternative: clean, reliable and offering value for money."
Several weeks down the line, Stagecoach gaffer Knight concedes the measures on Union Street have been largely accepted by passengers.
However, he remains firm in his view that the street should stay open to buses, maintaining the lesser congestion and better air quality that could be "transformational" for city life – so long as we can break old habits.
"It's a very critical moment we have here – we are on a knife edge and at a turning point that we must embrace seeing the bus as part of the solution and not part of the problem.
"I'm still of the opinion that (Union Street) is causing unnecessary inconvenience to passengers.
"I felt it was a little bit rushed. We pleaded for an extra seven days to take a calm and measured approach. But we move forward, hopefully, on a more positive footing."
---
Share your views on cycling where you live
The Press and Journal is looking for cyclists from across the north and north-east Scotland to complete our Pandemic Pedal Power survey, sharing views on how your cycling habits have changed – or even formed – during lockdown.
The survey is open to both experienced and novice cyclists, and completed surveys will be entered into a draw to win a £50 Halfords voucher.

If you have anything further you'd like to contribute to our story, email jbrady@dctmedia.co.uk with pictures, videos and anything else you'd be happy to share.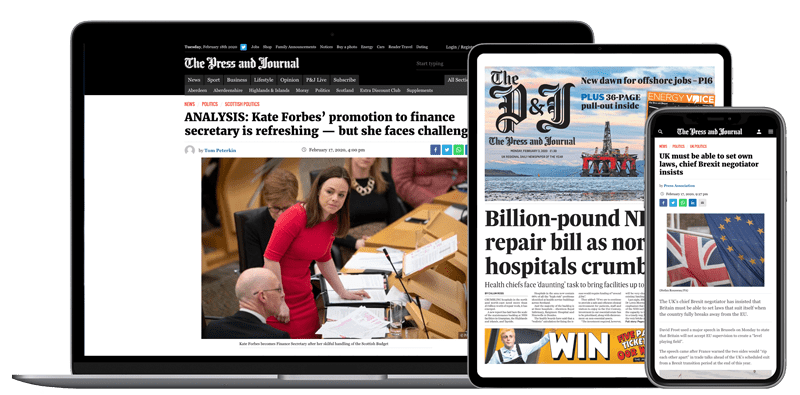 Help support quality local journalism … become a digital subscriber to The Press and Journal
For as little as £5.99 a month you can access all of our content, including Premium articles.
Subscribe