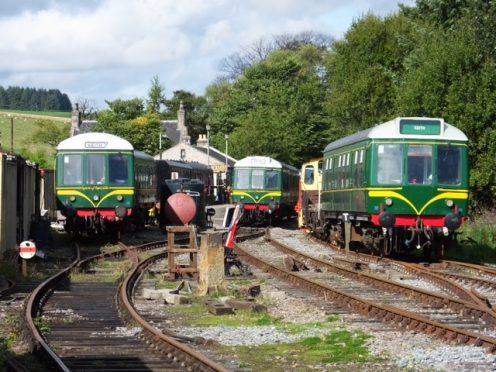 The team behind one of Moray's most treasured visitor attractions is inviting residents to learn about its allure during an open day.
The Keith and Dufftown Railway Association has voluntarily preserved the tracks between the two communities since the route was axed by British Rail in 1991, and they began operating their own small-scale service in 2000.
The group is holding the open event at the Dufftown station on Saturday, April 1, to let people find out about what goes into running the scheme.
The rail experts who help keep the venture on track will be on hand from 10am to 2pm to answer any questions and show guests around their vintage engines.
They will offer some first-hand perspectives into the work that goes into maintaining the trains, stations and infrastructure.
The group's director, Steve Rhodes, is hopeful that some visitors might be so enthused by what they see that they decide to join his crew.
And he expects that some new additions at the Dufftown station, installed last October, will prove a particular topic of interest.
Mr Rhodes said: "Guided tours will be provided, which will let visitors have a look at our new loco shed and training room and heritage centre we had put in.
"It's an opportunity for people who have never been on the railway to pop in and see what we do. I've spoken to so many people who say they would like to [try it], but have never had the chance.
"People don't have to join us, though that would be a real bonus."
Two weeks ago, another attraction was unveiled at the Dufftown station with the opening of The Sidings – a 1950s-style cafe located aboard one of the heritage railway carriages.