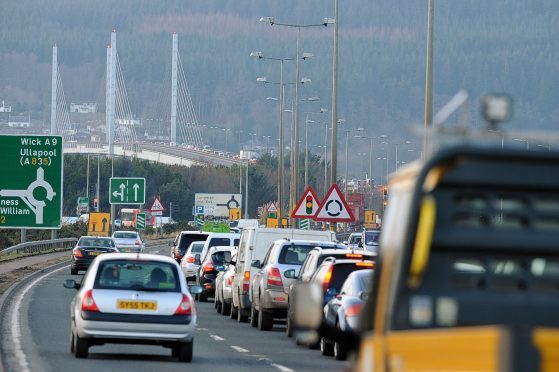 Designs for a congestion-busting flyover at one of the worst traffic bottlenecks in the north will cost almost £1.5million to prepare.
Engineering firm Jacobs UK has been officially awarded the contract for the multimillion pound development at the Longman Roundabout in Inverness.
Newly published documents show that four firms submitted bids to Transport Scotland for the work, all based in Britain, but Jacobs said it could produce the detailed plans for £1,494,344.50.
The flyover is proposed for the roundabout at the southern end of the Kessock Bridge, where the A82 Fort William road meets the A9 Perth route, and is expected to be similar in design to the Raigmore Interchange.
Known as a grade-separated junction, the development aims to finally end traffic misery for thousands of motorists at the notorious pinch-point.
Options will be drawn up over the next 15-18 months, after which a preferred design will be progressed by transport chiefs.
The Scottish Government has set aside £107million to progress the Longman Roundabout flyover and the city's new "East Link", which will connect the A9 and the A96 Aberdeen road between Inshes and Smithton.
Both projects were included in the £315million Inverness City Region Deal, which was signed off in January by representatives of Highland Council, and the UK and Scottish governments.
Transport Minister Humza Yousaf has said that appointing the design consultant was a "major step forward" for the project, which he said was a "key priority" for the Scottish Government.
Official data has shown that traffic on the Kessock Bridge has increased by as much as two-thirds in the past 20 years.
Traffic lights were installed at the roundabout but have proved controversial, with many motorists claiming they have exacerbated the problems.
It is understood that officials from Highland Council have already held talks with Inverness Caledonian Thistle FC about how the project will affect their stadium, which is next to the roundabout.
Labour MSP David Stewart previously welcomed the plans for the Longman Roundabout, but called for the timetable to be accelerated, warning that "any motorist looking for relief much before 2020 will be disappointed".
Transport Scotland is also currently consulting on three options for the new East Link, which aims to cut congestion in the city by joining up with the West Link to enable drivers to bypass the city centre if they want to travel from the A82 Fort William road to the A96 Aberdeen road.
The agency is expected to make a final decision on its preferred route later this year.