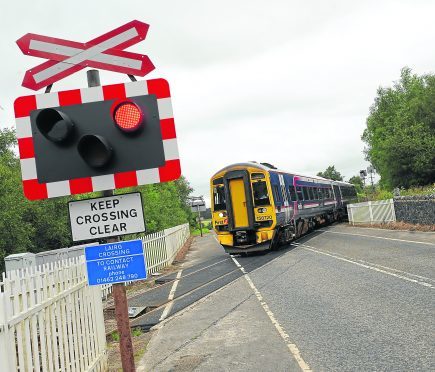 Nearly a fifth of all train journeys on the Far North line last year did not offer a trolley service to passengers because of staffing problems.
New figures obtained from Scotrail by Highlands and Islands MSP (Green), John Finnie, revealed that 434 trains ran without the service which offers teas, coffees, snacks and sandwiches.
A ScotRail Alliance spokesman stressed that the "vast majority" of trains had a trolley service, but admitted they had fallen behind the high standards they set to deliver on every service. He added that they are focused on recruiting more hospitality staff in Wick and Inverness.
But campaigners for improvements to the north line say they are fed up of the company's excuses amid recent problems with cancelled and delayed trains on the route.
Mr Finnie said the lack of refreshment trolleys on far north trains was "completely unacceptable", adding: "These journeys take more than four hours and passengers reasonably expect a decent level of service. It is not too much to ask for the opportunity to buy a drink and a sandwich. This is particularly relevant when ticket prices have risen sharply yet again.
"In addition to the inconvenience this causes to the local population it also presents the north in a bad light to visitors. Tourism is hugely important to the Highlands and tourists will rightly expect advertised facilities to be available when they travel."
President of Friends of the Far North Line (FFNL) and Caithness, Sutherland and Easter Ross MP, Jamie Stone, described the overall problems with trains on the line as "absolutely exasperating."
He said: "If we are to keep passengers using the railways then the travel experience is absolutely crucial. Things as small as a cup of tea and a smile will make the passengers come back next time.
"Scotrail has been making excuses for too long and it should not be beyond the wit of man to to go out and recruit and sort it once and for all.
"Tourism is absolutely crucial to the future of the Highlands and, more than ever before, tourists want quality and if we offer a shoddy service then we will lose them."
FFNL vice president and Caithness, Sutherland and Ross MSP, Gail Ross, who is from Wick, said she has received many concerning reports in the past six months over cancelled trains and lack of facilities.
Mrs Ross suggested  installing vending machines at stations to provide basic services when no trolley is available.
She added: ""It's unacceptable that staffing issues seem to create such significant problems on the route and I will be writing to Abellio Scotrail to ask for clarification of their recruitment policy and ask for them to consider more flexible and attractive working patterns for potential employees."
Meanwhile, figures released by Scotrail in December revealed that rail passengers to the far north were the worst affected in Scotland by delays, with only 64.2% of trains arriving at Wick station within five minutes of their scheduled time, the lowest in the country.
Just 38.1% of services were within one minute of their planned arrival time in Wick, the fourth-worst performance in that category.
Highland transport chiefs said that a series of 14 cancellations in November had a severe impact on the figures for the service to Wick.
Four of the six worst performing stations against the five minute target were all on the Far North Line, with Wick on 64.2%, Tain at 77.1%, Inverness at 78.6% and Invergordon at 79.3%.The national average was 90.03%.
Transport Scotland and ScotRail class a train arriving "on time" as one that arrives within a minute of the scheduled arrival time.
But they also take another measurement called Public Performance Measure (PPM) which gauges whether trains arrive within five minutes of the scheduled arrival time.