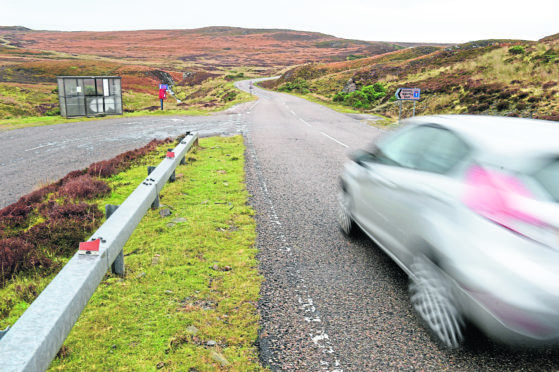 When tacks were found deliberately strewn across part of the NC500 – Scotland's Route 66 – it sparked fears a sinister stance was being taken against bad driving by tourists.
Mystery surrounds why, on four occasions this year, such a bizarre crime has been committed on a remote road between Bettyhill and Strathy in Sutherland.
Various theories have been offered – from an alleged dispute between residents in a nearby village to those acting out in frustration against NC500 motorists.
But whoever is to blame, and while police continue to investigate, the crime has prompted renewed calls for urgent action on roads along the route – both in tackling bad driving, particularly speeders, to carrying out repairs.
Susan Malone, owner of Bettyhill Merchant Shop, said: "This has been the busiest year yet in terms of tourist numbers since NC500 began three years ago.
"We can't complain as a business – but it means the roads are much busier, which brings problems such as traffic mayhem.
"The main complaint is the number of people not letting traffic past. There are lines of traffic at times. Some just don't know how to drive campervans or reverse into a passing place.
"There have been a few near misses and a few scrapes this summer. Speeding is another problem."
On just one day last month 85 vehicles were stopped by police patrolling the route.
Cautions were issued to 45 motorists, with 12 reported to the procurator fiscal – seven of those in relation to speeding.
---
>> Keep up to date with the latest news with The P&J newsletter
---
In August police issued an appeal after four high-powered vehicles were reported driving dangerously in the Ullapool area.
Organised convoys are also an issue.
In mid-summer eight German-registered Porches were spotted on a stretch of road in the Strathcarron area, speeding downhill on an S-bend.
On another occasion, 12 Italian-registered Minis held up traffic driving nose-to-tail near Tongue. Police were called to warn them to drive in no more than pairs.
Around 24 campervans, meanwhile, were found at a standstill near Bettyhill, causing major disruption.
The high volume of traffic is also having an effect on the condition of the roads, some described as "not fit for purpose".
Mrs Malone said: "The roads simply can't cope. There has been very little maintenance since NC500 began."
Jim Johnston, secretary of the Bettyhill, Altnaharra and Strathnaver Community Council, said: "We feel that insufficient attention has been given to single track areas, particularly passing places.
"You also find a lot of tourists don't know how to drive on single tracks or use passing places. While speeding is a problem, so are those who drive too slowly, causing delays and frustration."
But he added: "There is a mixed balance to have with the NC500 as it has also been a huge economic success story, helping boost many businesses. Local hotels have been full all summer and it has had a big impact on the B&B trade and local shops."
It is estimated that the popular 516-mile loop around the north coast of Scotland, starting and finishing in Inverness, generated an additional £9million to the economy in 2016, attracting an extra 29,000 visitors to the area.
NC500 managing director Tom Campbell said: "The route has grown into being a 12-month destination for visitors, sustaining jobs and businesses.
"It is a great economic success story for the North Highlands and we continue to work with the relevant authorities who are responsible for the roads to encourage investment in infrastructure.
"We want people to enjoy the experience of travelling the North Coast 500 in a safe and responsible way and emphasise this on our website and in everything we do."
North Highland area commander Chief Inspector Iain MacLelland said: "We are very aware of concerns about road safety and have increased patrols and enforcement activity on the route by local and roads policing officers in the form of marked and unmarked police cars, as well as motorcycles."
A Highland Council spokesman said it has committed £9.7million to undertake road repairs this year, £2.5m more than the previous year, adding: "The NC500 is treated the same as all other routes in the region in accordance with its priority in the inspection and repair hierarchy. Apart from our regular patching repair operations we have carried out resurfacing on the A837 at Lyne and Stronchrubie, resurfacing on the A894 at Duartmore, and overlay/inlay works at various locations in the Wester Ross area."
A Transport Scotland spokesman, which has responsibility for over 100 miles of the route, said: "We do all we can to ensure that the A835, A99 and A9 are well maintained."
Route problems need to be tackled quickly or the boom will go bust
It has undoubtedly become an instant success since launching in 2015 – but carries with it a host of problems which need sorting. And quickly, before it falls victim to that success.
One year on from gathering reaction for a story about the impact of NC500, we returned and found the same concerns and complaints – but being voiced much stronger and more angrily.
This is because the route is even more popular and – as a result – the roads are busier.
It was evident from our latest trip north, the tourist attraction is no longer seasonal, but is now enjoyed by visitors all year round – having witnessed around a dozen foreign-registered campervans and cars in just an hour. In October!
While many of the bigger towns and villages are reaping the benefits – Inverness, Ullapool, Thurso, Wick – the smaller locations are not.
This is because those in campervans stock up at supermarkets before hitting the road.
Many cyclists and car travellers take camping gear, deciding not to pay for hotels or B&Bs.
And while tourists have enjoyed the sights and scenery of many locations along the 516 miles, there is not much else being provided to keep them there and put their hands in their pockets.
Most businesses along the route have obviously enjoyed a boom in the last three year – even if just slightly – but unless the infrastructure is sorted, these visitors might be put off from returning.
Many of the roads are not fit for purpose and urgently need investment.
Bad driving is also another major issue, from those going painstakingly slow and holding up the locals going about their daily business, to speeders. Many tourist are purposely hiring high-powered cars in a bid to complete the route in a superfast time, which is causing a danger in rural communities.
So these need sorting, and fast. Otherwise visitors will soon decide the hassle involved will stop them from coming. As a result, the quick success story might also, quickly, fail.