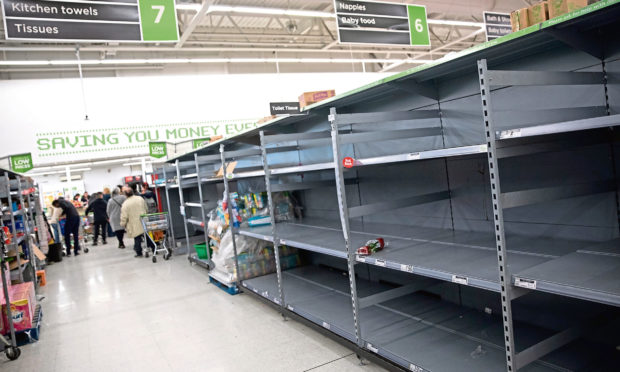 Every cloud has a silver lining…for badge makers. You can now buy badges which read: "I survived the great toilet paper crisis of 2020."
The people who make sanitiser are rubbing their hands together. This is also going to be a great time for Jehovah's Witnesses. They know that almost everyone is going to be home.
Please smile. I know it's difficult when the government says we should all be two metres away from other people and not face-to-face. We should all work from home, the prime minister said. Great. He was actually saying it is quite all right for us to be at home in our pyjamas all day long. Oh heck, really? Is that what it means? Now I have to go out and buy a pair.
And what will my poor wife do? I mean apart from also having to buy jammies, how does a photographer work from home? Note to neighbours – if you see a group of people standing opposite our house with big grins on their faces then they will have come around for a family photoshoot. Mrs X has a really long lens.
The other side of the coin is complacency. There are a lot of people in Scotland still who don't get it. They dismiss it saying it is just like a cold and just take a few paracetamol and you will be all right. Their stupid comments on social media make me want to go and shake them out of their blinkered world of banality and ignorance. The statistics about fatalities worldwide seem to go over their heads because they are only interested in their own neck of the woods.
If it has not happened in Stornoway, then it has not happened. When the inevitable happens, they will say they had no idea that it was going to turn out to be so serious. They will claim to have thought it was some kind of sabre-rattling by Sturgeon, Johnson and Trump. It was not their fault, they claim, because they did not know. They did, but they chose to ignore it.
Panic buying is wrong though. You shouldn't do it because it means people worse off than you will have to go without essentials. It is cruel and heartless and makes you a bad person. However, it is not exactly new. Some of us were guilty of it but only in the night-time. Our panic buying was when bar staff rang the bell and shouted: "Last orders".
Others are intent on pushing out nonsense about the virus – mostly to suit their own prejudices. From claims of God's revenge on people in certain countries to drivel about people who are supposed to have enjoyed bat stew for a Christmas treat, the discussions I have seen in the last few days about "the new killer disease" have one thing in common. There are few facts.
Here's one. Coronaviruses have been around and were known to virologists and such scientific types since the 1960s. They're not named after a bottled lager but after the way they look through an electron microscope. Sort of roundish, maybe like a starburst shape with a band or crown around it – a corona.
One silly online post says the virus is an anagram because it came from a raccoon like the ones in the Compare The Market TV commercials. That it is not actually an anagram of raccoon is irrelevant. Aleksandr and Sergei in the TV ads are not raccoons. Here's a clue – Compare The Meerkat. Also, that the coronavirus is an anagram of carnivorous is not a sign from the Almighty that it will only attack meat-eaters. Just not true. Yet I have seen irresponsible people, who seem to generally loathe science and its uncomfortable truths, happily sharing that bizarre theory.
This epidemic is serious and will be tragic for some people. That is true. However, we can all get down about relentless bad news. A giggle now and then stimulates the body's organs by increasing oxygen intake to the heart, lungs and muscles and triggers the release of endorphins. That may help people handle stress by easing tension, relaxing the muscles and lowering blood pressure.
Some say that may help your immunity system to resist viruses. So try and look on the bright side of this. Someone once said:
When you're chewing on life's gristle
Don't grumble, give a whistle
And this'll help things turn out
for the best.
Always look on the bright… something or other. It is so catchy I've forgotten how it goes.
We all have to take sensible precautions. We must always stand two metres away from anyone else to avoid the virus being transferred. I was in the bank the other day and two guys came and stood right beside me. They were almost touching me. Then I noticed they both had face masks on and I began to panic. They could be infected. My heart was pounding. It turned out they were only there to rob the place. Phew, what a relief.