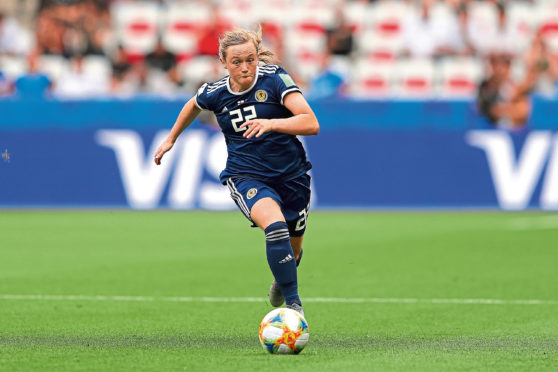 Erin Cuthbert is only 20 years old but she will forever remain young at heart.
The hugely popular Scotland midfielder has become the hub of the team, on and off the park, and is already inspiring the next generation of young female footballers.
World Cups and such experiences can come and go in a flash, without too much thought given to what it means to you and others. Cuthbert, holed up with the rest of the Scotland squad 60km north of Rennes in Château du Bois-Guy, does not have to look too far for reminders.
She said: "I've not been on social media that much but whenever I have taken a look on Twitter there are many parents saying I have inspired their little girls, they now have a shirt with 'Cuthbert' on their back or she's out playing football. They tell me I've done Scotland proud and to keep doing what I'm doing A lot of people are saying you're inspiring little girls, and I'd imagine little boys as well because it works both ways.
"That's the most powerful message because I know if Scotland was playing in the World Cup when I was a young kid I would be absolutely buzzing over it. I'm sure my dad would have had me out in France right now. It means a lot for me and it is very powerful to see those messages and it reminds us how lucky we are, not to take it for granted and to enjoy every minute.
"I turn off my notifications – that's the first thing. I think it's important to share your story. I also think you can't get caught up in the noise. I like to do an hour or so of it a day and that's me. I do a lot more at home but here I'm trying to focus and zone out. What better place than a chateau to keep yourself in a wee bubble!"
The fresh-faced Chelsea player started in the 2-1 defeat to England on Sunday, a creditable result that has given the Scots great heart.
Japan are the next opposition at Roazhon Park on Friday afternoon in Rennes, with Argentina in the final game next week.
Cuthbert added: "Nothing has changed with us. We can't control anything that happens outwith us. We know we still want to win the next two games.
"Shelley (Kerr) is preparing the same way. We're not changing our tactics based on the scoreline. We know what we can do and that's what we're going to show."