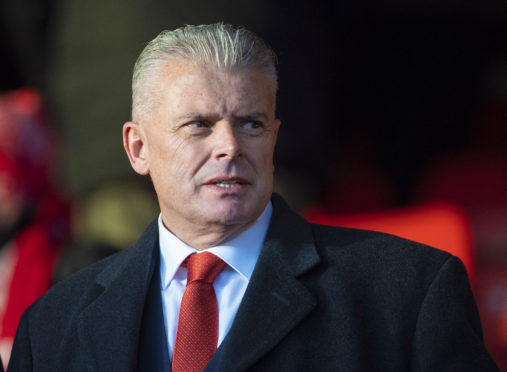 Paul Third
Aberdeen chairman Dave Cormack insists unity is key to his club navigating the financial shortfall caused by the coronavirus pandemic.
Dons boss Derek McInnes and his backroom staff as well as the players at Pittodrie are in discussions with the club about deferring their wages to help lower the day-to-day operational costs.
Hearts have asked their players to take a 50% wage cut due to the shutdown while Celtic manager Neil Lennon has said wage cuts could be implemented at Celtic Park in the future.
The number of clubs implementing cost-cutting measures is only going to increase in the weeks ahead but the Dons are not planning on asking their players to accept wage cuts at this stage.
However, deferrals are a possibility at the club during the shutdown.
Cormack said:  "Everyone across the club is collaborating to ensure Aberdeen Football Club gets through this challenging period.
"There's a real willingness among directors and investors, management and staff, to pull together to see us through this difficult period.
"It's my hope that we will be in a position to announce more details on our assumptions and how we address the funding gap later this week."
The talks come a week after Cormack described the current operation at Pittodrie as unsustainable during the pandemic.
With monthly running costs of £1.2 million and no football on the horizon anytime soon the Dons chairman has predicted £5 million in outgoings and little income being generated.
The uncertainty has also made player sales in the summer unlikely leaving Cormack fearful of the club's ability to withstand a lack of income between the next three to six months.
Clearly, a week later, Cormack's statement of tough decisions needing to be made and request for everyone to play their part in the efforts to help the club get through the period are no idle threat.
However, the willingness of the club's football operation to support the club in its time of need will be reassuring for the board as will the response from supporters.
Season ticket sales broke the 1,000 mark on Monday and Cormack is delighted to see fans doing what they can to help the club.
In a message to supporters he said: "I fully appreciate that our supporters have their own challenges at this time but, as the chairman, it is incumbent on me to appeal to all our Dons fans, partners and sponsors to do what you can to support the club at this critical time.
"I've been heartened by the messages of support I have received from fans asking what they can do to help the club through this really difficult period.
"I'm hugely encouraged by those still buying season tickets, renewing or subscribing to AberDNA and buying merchandise online. This underlines the amazing and loyal support we have from the Red Army.
"Like you, I love our club and what we stand for. We are determined to get through this and I am confident we will, if we all stand together."