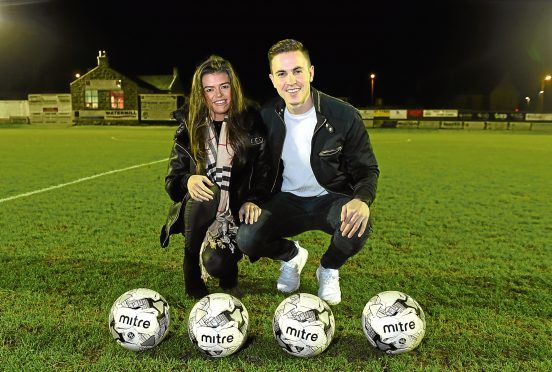 Fraserburgh forward Paul Campbell has enjoyed a memorable start to 2018 and hopes there is more excitement to come in the Broch's Scottish Cup tie against Rangers at Bellslea on Sunday week.
On New Year's Day, Campbell and his partner Tiffani Bruce became engaged and five days later the attacker netted four goals in the final 16 minutes of the match when he came on as a substitute in the 7-0 win against Fort William.
Campbell, who celebrated his 25th birthday on Monday, said: "It was some week. Tiffani's father is from the Broch so that made asking him the big question a bit easier. I think the fact I play for Fraserburgh certainly helps.
"I got engaged to Tiffani, who also lives at Peterhead, on January 1 and then topped it all off by scoring four times against Fort for my first hat-trick at Bellslea.
"It took my tally for the season to 20. I'm really chuffed with that as it's the first time I've managed to reach that mark in the Highland League.
"I'm four goals clear of my fellow forward Gary Harris at the moment.
"Our manager Mark Cowie tends to play either Gary or myself up front alongside Willie West as he's probably better at holding the ball up.
"But when Gary and myself are paired together up front it is a good combination.
"I started on the bench and didn't come on until the 65th minute, so I wasn't expecting to play such a big part in the victory. It was a bit surreal. Hopefully, the remainder of this year will be just as good."
Campbell, a trainee engineer working in Aberdeen, hopes his four-goal haul has boosted his chances of starting against the Glasgow giants.
He said: "I must admit that my family and myself are all big Rangers fans, so that adds to the excitement.
"They'll all be coming along. "It will be strange for them to support their team and watch one of their family do his best to knock them out of the Scottish Cup.
"As far as we are concerned we have to keep on focusing on each game as it comes along, starting with this weekend's trip to Inverurie Locos.
"I was disappointed not to be in the starting line-up for last weekend's game against the Fort but hopefully those four late goals will put me in contention to start against Locos at Harlaw Park."