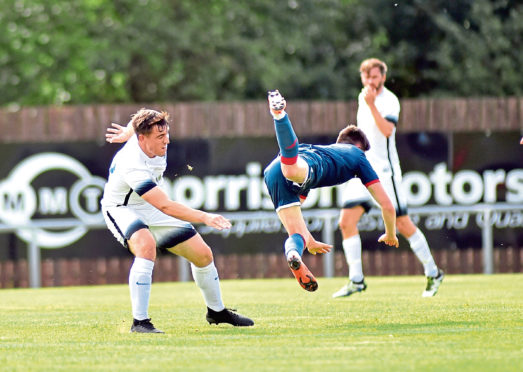 Strathspey Thistle central midfielder James McShane hopes his side can build on last season's best ever Highland League finish.
The Grantown Jags finished in 14th spot with 33 points from 34 games, their highest return since joining the division at the start of the 2009-10 campaign.
McShane, the 24-year-old grandson of Strathspey chairman Donly McLeod, is in his eighth season at Seafield Park and the club's longest serving player.
McShane said: "I don't think we punched above our weight last season. We started off very poorly and we seemed to struggle in the first 10 games or so.
"Our manager at the time, Ally Munro, wasn't happy with the way things were going and decided to move on, which was a bit of a shame.
"All the players were pretty disappointed with his decision to step down as we all liked him.
"However, Gordy Nicolson came in, and as so often happens with the appointment of a new manager, we seemed to get a bit of a bounce from it and he got a great reaction from the players.
"We seemed to just kick on from there and put together a good run of games. After an unexpected draw against Fort William we then drew with Formartine United at home the week after.
"The following week we fought Cove Rangers all the way, we scored two goals before they struck late on to go away with a hard-earned 3-2 win.
"We used those results as a bit of a springboard, and from there we went on to win a considerable amount of games and pushed some of the top clubs all the way.
"It was a good season last year and if we are able to add a new face or two we feel we can progress again."
McShane believes it is important they make Seafield Park a difficult venue for visiting teams.
He added: "With a good pre-season under our belts I'm sure we can go on and do even better and show that we can press on again, that's what we're all aiming for.
"We don't want to be one-season wonders, we want to compete in every game we play in and make sure that teams coming to Seafield Park know that they're going to be in for a really tough game when they come up here.
"Of course it helps when we have a player of Cammy Lisle's quality, who plays at full back.
"He a great young player, as is his twin brother Scott who has joined Formartine."
Factfile
Ground: Seafield Park
Colours: Blue
Honours: None
Manager: Gordy Nicolson
Season 18-19: Finished 14th
Manager's view
Strathspey Thistle manager Gordy Nicolson is confident his side can keep pushing in the right direction.
The Grantown side recorded their best finish in the Highland League last season term but the Jags boss is hoping to keep the upward trajectory going this term.
He said: "We were happy enough with last season. We didn't get off to the best start and we also didn't end the campaign as well as we would have liked.
"But we had a lot of positive results in the middle chunk of the season, which was very pleasing.
"We are well aware we need to kick on. Every team wants to improve year on year and we need to do the same. We can't just rest on our laurels."
Nicolson is pleased with the way his squad is shaping up, adding: "We have tied up the whole squad on long-term contracts, which was really important.
"All the guys who were so good for us last year, including the Lisle twins, Scott and Cammy, are under contract but I am still looking to add one or two.
"The arrival of Andrew Skinner from Buckie Thistle is a great show of intent. Being able to attract a player of his calibre is great for us."