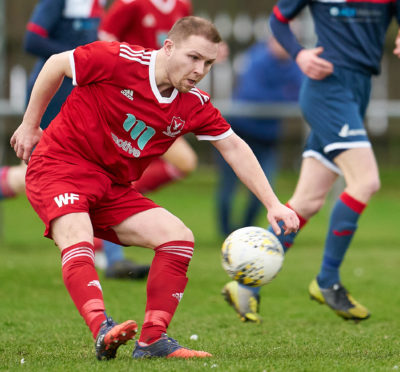 Dane Ballard is a man eager to make up for lost time after starting his first game in nearly 18 months for Deveronale.
The Vale striker made his first top team start since suffering ruptured knee ligaments and a torn lateral meniscus against Rothes in 2018.
The Banff club's supporters helped Ballard achieve his return earlier than expected as they helped the club to raise almost £7,000 so that he could receive treatment privately rather than wait for the operation on the NHS.
Although 29-year-old Ballard didn't score in his 70 minute appearance he was just relieved to be back on the football pitch again.
He said: "It has been 17 and a half months of torture as I love my football so much and it would have been great to mark my return with a goal but there were very little chances created throughout the game.
"I have been chirping away in Steve Dolan's and Craig Stewart's ears to let me play since the start of the year but they were wary of playing me as I was ahead of schedule in returning from the injury.
"The longer the game went on I was beginning to make runs until I tired but the plan was always to play 70 minutes.
"Sometimes I wasn't sure if I would be fit enough to return as it has been a long time looking back but getting the operation early boosted my confidence.
"I have a lot of people to thank for helping raise the money to help me achieve this.
"Being back training for 12 weeks now has paid dividends.
"All I want is to get back among the goals as that is the greatest feeling in football and help the team move up the table."