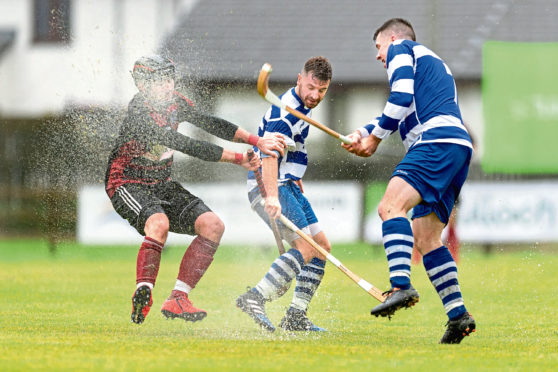 Camanachd Association directors and officials will meet in the next couple of days to draw up a Plan B in the wake of the Tulloch Homes Camanachd Cup final washout.
The rearranged match between Newtonmore and Oban Camanachd will be at Fort William on Saturday but if there is an adverse forecast then it might be switched to Inverness.
The final was played in treacherous weather before referee Robert Baxter halted play five minutes into the second half with the score at 0-0 – the first-ever abandonment of a Camanachd final in 126 years.
Association president Keith Loades said: "We have scheduled the match for the same venue on Saturday and that remains our preferred option as the marquees and advertising hoardings are still at An Aird. But we have assured Newtonmore and Oban Camanachd that there will be a Plan B put in place.It makes sense to look at alternative venues and whether these grounds are available and Inverness might be an option. We don't want to switch, but if we have to we won't leave it to the last minute.
"It was just a terrible shame that Fort William was hit by a sideswipe from Hurricane Dorian. I phoned Richard Gall (managing director of Fort William) to thank the club and volunteers for all the great work they did to try to get the game finished."
There was a suggestion the game be delayed for a fortnight to allow BBC TV coverage. But Camanachd directors called in representatives of the two clubs at the post-match meal and accepted their wish that it should go on this weekend.
Newtonmore manager Paul John Mackintosh said: "It had to be this weekend. We weren't in favour of letting things drag on. At 8am we saw social media posts of the state of the pitch and realised there could well be a problem.
"The ref called in the two managers at half-time and said he wasn't happy with the state of the pitch and he'd give it 10 minutes to see if there was any improvement.
"You can't really argue with his decision." Oban manager Stephen Sloss said: It was mayhem, the worst conditions I've ever seen. I hear Newtonmore had players in Tenerife so they didn't want it delayed past next weekend. If it does happen to be Inverness then we'll accept that.We took a big support – will they be refunded? And there is a considerable cost to our club."
There were two immense performances in the 50 minutes played. Daniel Madej, in his first final, was commanding at full back for Oban, even juggling the ball on his stick as he burst out of defence.
And Steven MacDonald ruled the midfield for Newtonmore, managing splendid clean hitting on a day of so many duffed hits in the downpour.
Oban had the wind in the first half but it proved little advantage because players couldn't hit the ball cleanly.
It became increasingly dangerous and referee Baxter was right to call time on the fiasco.
The Camanachd Association has decided there will be free entry to the rearranged final. Spectators will be asked for voluntary donations to help cover the cost of the rearrangement.