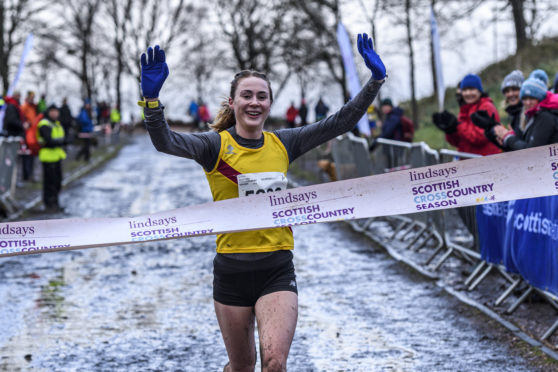 Great Britain track and cross-country international Mhairi Maclennan is not allowing ongoing health problems to stop her getting back into competitive action.
The Inverness Harriers club member has been hit by chest infections and bouts of bronchitis in the past year, which have frequently seriously affected her ability to train and race.
Despite this she has battled on, and last weekend the Edinburgh-based athlete returned to action by competing in a 10K road run at Barrowfield, Lancashire.
Because of the wholesale cancellation of fixtures over the summer, this was her first race since winning the senior women's title at the Scottish cross-country championships in February.
Not surprisingly, Maclennan was not firing on all cylinders, but still managed to finish fourth, recording 34min 57sec, while Eleanor Bolton (Ribble Valley Harriers) won in 33:33. The Highland athlete's PB is 32:59, which she set at Brighton in 2019.
She said: "I'm not sure how accurate a benchmark that is, as I was on my own for the whole race and it was very windy. I know I'm a lot fitter than the time suggests, but it gives me an idea of where I'm at.
"I haven't been able to string consistent training together for over a year now, so it's not ideal.
"But the race was important psychologically in being able to get out there again and overcome the health stuff going on in the background.
"It was about getting back into it and enjoying racing, but I'm under no illusions that it's going to be plain sailing from here.
"I had a chest infection during lockdown and went to hospital for X-rays and scans. They've done a full scan of my immune system and next week I'm going back to hospital for an in-depth respiratory analysis.
"My lung capacity has been reduced, but no one fully understands the cause yet. Hopefully I'll learn a bit more next week."
Despite these concerns, Maclennan has 10K and half marathon races in her sights over the next couple of months, subject to events going ahead given the ever-changing coronavirus restrictions.
She said: "I'm thinking about going back to the Brighton 10K, which is scheduled for October 11. But for some reason it doesn't have a licence yet, so I need to consider whether it's worth making the long journey. I got my PB there last year, so I'd like to do it again.
"Then I'm looking at a couple of half marathon options in October. There's nothing definite at the moment, but I'd like to do one. It's so difficult to plan with certainty at the moment, so it's important not to build your hopes up as the situation can change so quickly."