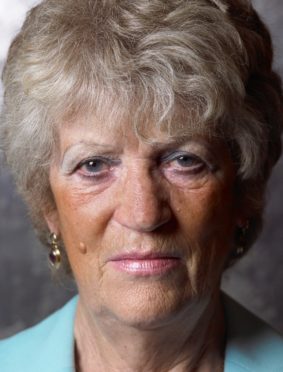 Mary Ann Henton was regarded as the "heart and soul" of shinty in the north.
She joined her local club – Lovat – aged just 16, taking over the duties of tea lady at what would be the beginning of a long relationship.
Mrs Henton, 80, became regarded as the "beating heart" of the club and became a key figure in their trials, tribulations and triumphs for more than six decades.
Highland shinty players have spoken of their devastation following her death at her home in Kiltarlity.
Progressing from tea lady, she undertook numerous positions with Lovat – including treasurer – and with the Camanachd Association, of which she was a distinguished patron, and disciplinary committee secretary for 25 years.
She was just a teenager when the Lovat won the Camanachd Cup in 1953, but was elated when they secured the accolade again in 2015, with her nephew John MacRitchie as the club president.
Mr MacRitchie said her death has "come as quite a shock" to all who knew and loved her.
He said: "Players, officials and supporters are devastated at Mary Ann's sudden passing at home.
"It has come as quite a shock as she was so young in spirit and would go anywhere to watch Lovat play — and any other shinty match that was on.
"It'll be extremely strange when the team plays again after lockdown and Mary Ann isn't there. The players have taken it upon themselves to go down to the pitch, cut the grass and make sure everything is tidy for her final visit to a place she loved."
Lovat Shinty secretary Linda Bell said the club has been left devastated by the passing of a "loved and respected figure".
"Everybody at Lovat has been devastated by the sudden passing of Mary Ann Henton, for many years the club's treasurer," she said.
"Mary Ann was a well-kent, loved and respected figure, not only at her beloved Lovat but across the whole shinty community.
"Our thoughts are with her family at this sad time. We will miss her terribly."
Mrs Henton dedicated her life to the sport as a committee member and fundraiser and exercised her knowledge and wisdom of the sport's governance on the disciplinary and behaviour in sport committees.
In 2014 she was awarded the BEM in the Queen's Birthday Honours list for her service to her local club and the sport.
Her local church said the honour was a "well-deserved tribute" to one of the sport's "best-known and best-loved champions" and a valued member of the Tomnacross congregation.
Camanachd Association President Keith Loades described her as "irreplaceable."
He said: "Mary Ann was a patron of the Camanachd Association and epitomised everything that is good about our game.
"She continued to give outstanding service to shinty, locally as a fund-raiser and committee person but also to the disciplinary committee and behaviour in sport committees, where her wisdom and knowledge of the sport's governance was invaluable.
"A visit to Kiltarlity will never be the same ever again."
Lovat players past and present are now preparing to hold a guard of honour for Mrs Henton today following a private family funeral at William T Fraser and Son in Inverness.
Following the ceremony, the funeral cortege will take a drive round the club's Balgate Park Pitch in Kiltarlity for one final time as Shinty players line the pitch to pay their respects.
She will then be taken to her final resting place at Tomnacross cemetery.