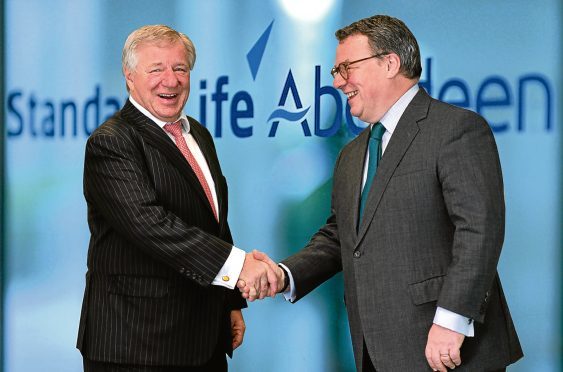 It is just a few months since Edinburgh-based Standard Life completed its £3.8billion all-share takeover of Granite City-headquartered Aberdeen Asset Management (AAM).
Now, Standard Life Aberdeen (SLA) co-chief executive Martin Gilbert can look back on a successful merger taking in £583billion of invested assets and in excess of 1,000 employees at operations across 80 locations in more than 50 countries.
The numbers are mind-boggling and highlight the scale of a business spanning Europe, the Americas, Asia, the Middle East and Australia.
Mr Gilbert, who was ranked third among UK firms and second among global asset management companies in a Harvard Business Review list of the world's 100 best performing chief executives, said integration of the two businesses had gone well.
Bringing the two companies' IT systems together was one of the biggest challenges but the merger was relatively smooth, he added.
Before the deal completed in August, doubts were raised in the City about the job-share arrangement at the top.
Mr Gilbert, 62, who co-founded and was chief executive of AAM, and former Standard Life boss Keith Skeoch, 61, are joint CEOs.
The former AAM man is now focused on SLA's global profile, while Mr Skeoch looks after day-to-day business.
Mr Gilbert said the pairing worked well, helped by the fact the two men have known each other for many years.
Reports describing the duo as long-time "fishing buddies" were a little over the top though, he said, adding: "We have fished together but I wouldn't quite go that far.
"We both bring our own skills and knowledge of the companies that we've led to this joint role and are very clear about what we can achieve.
"Ultimately, the success of the merger between Aberdeen and Standard Life rests with us and that's exactly the way it should be."
The megamerger – the largest in Scottish corporate history – valued Aberdeen at £3.8billion and Standard Life at £7.5billion.
Shareholders overwhelmingly backed the tie-up, with more than 95% of investors at AAM and 98% at Standard Life voting in favour of the takeover during general meetings.
AAM's shareholders ended up with about a third of the combined business, with Standard Life investors owning around two-thirds.
The Competition and Markets Authority decided not to refer the merger to an in-depth "phase two investigation", paving the way for the deal's completion in August.
Agreed in March, the tie-up is targeting cost savings of £200million a year, with about 800 jobs expected to be lost over a three-year period from a global workforce of 9,000.
According to Mr Gilbert, the merger "deepens and broadens our investment capabilities and gives us a stronger and more diverse range of investment management skills".
It has also created "significant scale" across asset classes and geographies, he said.
The enlarged business highlights "strong brands, leading institutional and wholesale distribution franchises, market-leading platforms and access to long-standing, strategic partnerships globally".
Mr Gilbert said the combination put SLA in strong position to innovate and grow in a competitive global market.
He is equally confident about the prospects for the north-east economy, which seems to be slowly but surely making progress again after the oil and gas industry downturn.
Roles at Aberdeen University and economic development body Opportunity North East, as senior governor and boardroom team member respectively, allow the 2017 Elevator Awards entrepreneur of the year a chance to play his part in shaping the region's future.
Resilient businesses, a substantial amount of oil and gas still waiting to be exploited in the North Sea and diversification of the area's economy are just a few of the reasons why the north-east can prosper again, he said.
He also pointed to strong rates of productivity and business start-ups, as well as a growing working-age population.
In addition, he highlighted "the largest concentration of health and life scientists in Europe".
The £350million expansion of Aberdeen harbour, the new exhibition centre which is under construction and other major developments either completed or under way are further evidence of the north-east having a bright future, he said.
Describing himself as a "glass half-full man", Mr Gilbert said the economic outlook for the UK as a whole was good.
A growing global economy in 2018 will help drive the country forward, while also creating the right conditions for new business to come SLA's way, he added.
Mr Gilbert said he has no plans to step aside from his day job.
The same passion that drove him to make AAM bigger and better is now devoted to achieving the same goals with the enlarged business he leads alongside Mr Skeoch.
But he will still make time for some fishing – his family owns a 1.5mile stretch of the River Dee – the Tilbouries fishing beat.