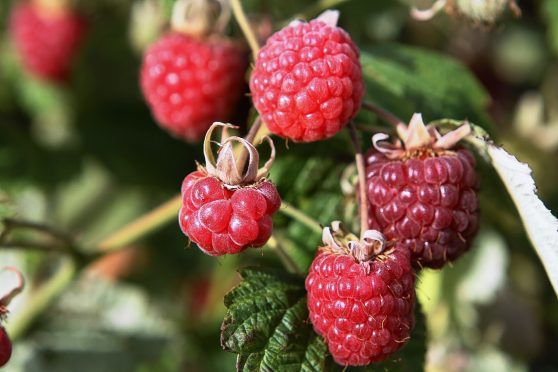 Aberdeenshire-grown raspberries are arriving on supermarket shelves two months earlier than last year.
Raspberries from the Mitchell family's Castleton Farm, near Laurencekirk, will be available in Waitrose supermarkets from April 19.
The early growing season has been made possible thanks to investment in biomass boilers to heat a number of polytunnels at the farm.
The Mitchell family is growing Maravilla raspberries for Waitrose – a relatively new variety, Maravilla boasts firm, large berries with a good shelf life.
The premium supermarket chain is also set to start stocking Scottish-grown tomatoes later this week.
The early supply from Hawick farmer Jim Shanks, who grows tomatoes for the Scotty Brand, is a result of plenty daylight hours and new growing techniques.
Mr Shanks, who started out as a dairy farmer, recently invested £2million in a greenhouse system that is heated by power from an anaerobic digester fulled by his dairy herd.
Waitrose fruit buyer Nicki Baggott said: "The recent sunny weather has led to a shift towards lighter style eating so we warmly welcome the arrival of our first home-grown raspberries.
"This is such a great time of year for cooks as spring heralds the start of British seasonal fruit and veg. Our raspberries will be joining Ayrshire potatoes and Scottish tomatoes all of which will be appearing on our shelves in the next few weeks."
Last month the supermarket became the first retailer to sell Scottish strawberries, with Angus-grown berries made available at stores on March 10.