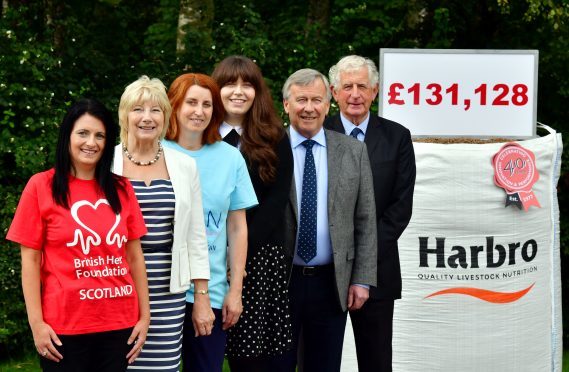 North-east animal feed firm Harbro has raised more than £130,000 for charity.
The company has smashed its original goal of raising £40,000 for four main charities during its 40th year in business.
Company directors and staff across the firm's 19 country stores have held a range of fundraising activities in the past few months.
This has resulted in a grand total of £131,128 being raised – this has been split between the four main charities selected by the company and 18 other charities put forward by the company's regional offices and country stores.
The main charities are: Kidney Kids Scotland; the Juvenile Diabetes Research Foundation (JDRF); the British Heart Foundation and CLAN Cancer Support.
Company chairman Peter Kenyon and managing director Graham Baxter presented money to the charities at the Thainstone Centre, Inverurie.
Mr Baxter said: "Hundreds of miles have been run, walked and cycled, acres of tablet made and sold, a sheep weighed, management staff "gunged", three men's legs shaved, a fashion show staged and a ball held, in a truly magnificent effort from all the staff.
"We are so proud of their efforts and to have raised such a phenomenal sum and to be able to help so many worthwhile causes. It's a very rewarding and memorable way to mark our 40th year."
Two of the charities – the JDRF and Kidney Kids Scotland – have close personal links with Mr Baxter and Mr Kenyon.
Two years ago Mr Baxter's six-year-old grandson was diagnosed with type 1 diabetes, and Mr Kenyon's daughter has received two kidney transplants after suffering kidney failure as a young girl.
Claire Henderson, of JDRF ,which was given £28,282 from the firm, said: "Congratulations to Harbro for smashing their target of funds to be raised for these deserving causes. We are truly humbled to be a beneficiary of their tireless fundraising efforts and thank all who donated so generously."
Meanwhile, 50% of the individual fundraising efforts – £17,998 – from the company's regional offices and country stores will go to their chosen charities. The other 50% was added to the main fundraising pot, to be divided between the four main charities.
Photo Diary – Page 16