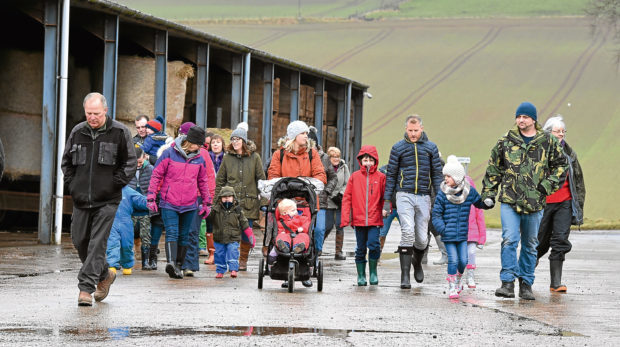 A desire to engage more with the public and teach them about the day-to-day workings of a farm was the impetus for one Aberdeenshire farming family to host a day of farm tours.
Fiona Smith, who runs Cairnton and Westeron Farms, near Laurencekirk, with her parents David and Sheila Gammie, organised a duo of tours at Cairnton last weekend.
Two groups of 30, comprising a mix of adults and children, attended each tour and the interest was so high for the events that a waiting list of 30 was established.
The family runs just under 850 acres at the two farms, as well as owning the Kirktown Garden Centre, near Stonehaven, with David's mother and brother.
The farming enterprise comprises cereals, seed and ware potatoes, daffodils, and more recently a herd of 40 Aberdeen-Angus and Simmental cows.
Fiona, who previously worked at Business Gateway and in the banking sector before that, describes Cairnton and Westerton as a "good old traditional farming business".
In a bid to interact more with local shoppers, an honesty shop known as the Spud Hut was launched at the end of the Cairnton Farm road in November last year.
It sells tatties and daffodils grown on the farm, with carrots and swedes from the Fearn family's Redford Farm, and eggs from the nearby Odmoston Farm.
Fiona says the shop has been a success and it offers a great way to sell produce direct to the consumer, without requiring much additional output from the current farm business.
She said she was so encouraged by the engagement from the public that more farm tours are being planned, and the family is also looking into the possibility of developing "pick your own" patches whether it be for potatoes, daffodils or even pumpkins at Halloween. "The first tours were a complete test run," said Mrs Smith.
"We tried to keep it as simple as possible, so we have scope to be more creative at future events. The feedback forms we got were very encouraging and have given us some ideas for the future.
"My main target audience for the tours were people who had never been on farms before and I just wanted to teach them about agriculture and open their eyes about what goes on on a working farm,"
She said people attending the tours were given an overview of beef production with three different pens of cattle on show, including pregnant cows, and cows with calves at foot of varying ages, as well as a demonstration of how the cattle are bedded with straw. "We had a bale of straw that people tried to push to show how heavy it is – the kids loved it," said Mrs Smith.
"And we also had a tractor out for them to sit in and get their pictures in."
Visitors were also given an overview of the different types of feed the cattle are given, and an explanation of the different crops grown on the farm and the markets they are grown for including malting barley and daffodil bulbs.
Mrs Smith, who is expecting her first child in July, said engaging with children and the next generation was a key focus of the farm tours.
"Everybody is looking for their bit of diversification and support from the public is so important," she added.
"If we can help raise awareness of how food is produced and the care that has gone into it then people will start asking why some food is so cheap, rather than why it is so expensive."
She said timings of future tours would be dependent on when there was something worth seeing for the public, and as the farm is predominantly arable this would involve working around the cattle.
As a result, she said Open Farm Sunday's June date meant it was unlikely to suit the family's farming system, but she would strongly encourage everyone to go along to their local event as it is such a fantastic concept.