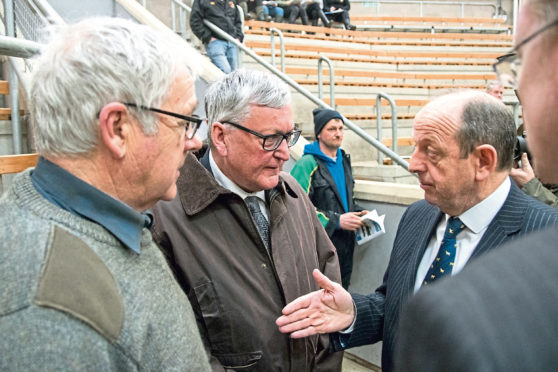 A three-month deferral of Brexit and no-deal being taken off the table would be preferable for the farming industry to the "catastrophic" prospect of the UK crashing out of the EU on March 29, according to Rural Economy Secretary Fergus Ewing.
Speaking on a visit to United Auctions mart in Stirling yesterday, Mr Ewing said that, while the Scottish Government was doing all it could to make life easier for farmers, it had no direct control over Brexit negotiations.
He said that, while his party still wanted to see Brexit halted, it had been realistic enough to realise that compromises were sometimes needed.
He added: "Our position remains that we should stay within the single market and remain within the customs union."
Pointing to disruption already affecting the industry, United Auctions managing director George Purves said a rush among Irish farmers to market cattle before March 29 had caused a spike in supplies entering the UK.
"And this has resulted in the decline in prices paid for Scottish beef by processors and wholesalers – one which is now beginning to knock into store sale prices," he added.