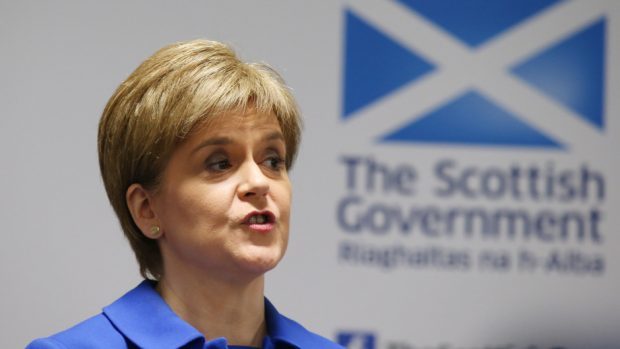 The Scottish Government has agreed to provide up to £200million from its own coffers to farmers and crofters who find themselves without vital subsidy payments at the end of this month.
First Minister Nicola Sturgeon last night said the government would provide cash advances to any producers who were still waiting for direct EU subsidy support payments at the end of March.
The news comes amid a political storm over the government's handling of farm payments under the Common Agricultural Policy (Cap).
Farmers and opposition politicians have criticised the government for not getting the payments out to farmers on time. They are normally made in December, but to date only around 56% of farmers have been given part of the money they are due.
A new government IT system to process Cap payments, which cost around £180million, has been blamed for the delays.
Speaking ahead of a meeting with the National Farmers Union for Scotland (NFUS), the first minister said she recognised the difficulties being faced by farmers and crofters as a result of poor market prices, challenging weather conditions and late payments.
The meeting with the union comes ahead of a farmer protest outside Holyrood tomorrow .
"We are less than half way through the payment window allowed by Europe, and the majority of Scottish producers – more than 10,000 – have already received a subsidy payment. However, payments are not being made as quickly as we would like," said Ms Sturgeon.
"I very much recognise the cash flow issues facing Scottish agriculture, which underpins our £14billion food and drink industry. That is why the Scottish Government has earmarked up to £200million of national funds so that any farmer or crofter who has not received an instalment by the end of March receive a nationally-funded payment from the Scottish Government in April."
Farm minister Richard Lochhead, who has faced calls to resign from his post over the fiasco, last night also confirmed that payments to beef producers under the Scottish Beef Scheme would be made in the middle of April as normal.
He said payments were taking longer than hoped due to the challenge of implementing a complex regime, which had been created with industry.
"We are continuing efforts to speed up progress, such as taking on extra staff, but given the current difficulties facing Scottish agriculture the Scottish Government will use national funds to ensure farmers and crofters will receive support, totalling hundreds of millions of pounds, in the coming weeks," he added.
Last week similar plans to use national funds to underwrite £55million of payments to disadvantaged producers under the Less Favoured Area Support Scheme (LFASS) were unveiled.
The Scottish Conservatives have called for a full inquiry into the payments fiasco (see page 37).