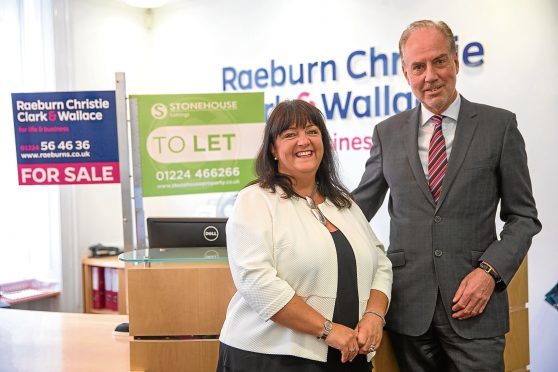 The residential leasing business of north-east legal firm Raeburn Christie Clark and Wallace (RCCW), with a portfolio of 300 properties valued at around £45million, has been acquired by Aberdeen-based Stonehouse Lettings.
The deal brings the total number of rented homes Stonehouse manages in the area to 2,300 and is its seventh acquisition since its merger with Simpson Brebner in 2013.
Its parent company, Lomond Capital, now has assets worth £500million under management in the region.
Stonehouse said the acquisition will see increasing activity at its offices in Aberdeen city centre as well as in Kemnay and Ellon. Nine RCCW leasing employees have joined the firm, bringing the size of the team to more than 50.
A "strategic alliance" between the two firms will see Stonehouse continuing to specialise on residential leasing and RCCW on property sales and purchases.
Stonehouse managing director Lisa Brebner said: "We have admired RCCW and its residential leasing business for some time and I am delighted to now be welcoming the leasing team to Stonehouse.
"The RCCW clients are used to high standards of service and we look forward to working with them to make the most of their property assets. The combination of Stonehouse and RCCW is a powerful one and a strong statement of our commitment to the Aberdeen market."
Ian Lawson, Lomond Capital's chief executive (Scotland), said: "This is a great story of investment, growth and opportunity in Aberdeen. We believe strongly in the region and ,with our residential expertise in leasing, we look forward to continuing to invest and offer new and exciting products and services to our existing and new clients."
Keith Allan, managing partner at RCCW, said the firm had been impressed by the growth of Stonehouse in recent years.
He added: "Stonehouse was the best choice to take the former RCCW leasing business forward and continue its growth. I know the entire RCCW residential leasing team will relish the new opportunities that working with Stonehouse will bring.
"The strategic alliance allows us to concentrate on legal and property sales and purchase business where we continue to grow and offer outstanding service whilst safe in the knowledge our clients with leasing portfolios are in safe hands."