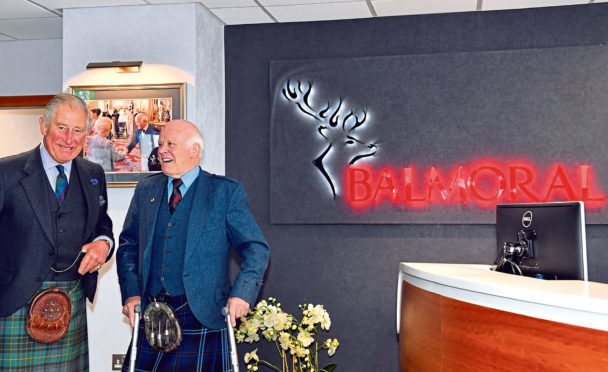 Like old friends, one of the north-east's most successful entrepreneurs led the heir to the throne around his £20 million centre yesterday.
There were no airs and graces from 77-year-old Jim Milne who made his fortune founding the Balmoral Group in 1980 with just five employees.
Tapping the prince on the shoulder he shouted "birl roon lad" on a number of occasions to make sure the Duke of Rothesay was able to speak to as many of his 500 employees at the new site. Having built the Aberdeen-based energy and engineering services firm from scratch Mr Milne is extremely proud, and rightly so, of his legacy and the team who helped him build it.
And it appeared so too was Prince Charles.
Addressing an audience of around 100 delegates His Royal Highness congratulated the Aberdeen loon on his achievements, not just in business but in the charity sector having established Friends of Anchor which has now raised millions of pounds for cancer patients living in the north and north-east. He also joked: "I struggle to see how you can make a success out of a company called Balmoral as I keep getting letters delivered to me which are addressed to you."
Prince Charles also took time out to speak to some of the many invited guests including Alfie Cheyne, chief executive of Ace Winches; Martin Findlay, senior partner at KPMG in Aberdeen and Deirdre Michie, chief executive of Oil and Gas UK. Aberdeen City Councillor Marie Boulton was also lucky enough to speak to the prince after Mr Milne exclaimed: "It's nae a party withoot you Marie."
Throughout the morning the relationship between the Duke and Mr Milne became more and more enjoyable to watch.
At one point the businessman, who has recently undergone knee replacement surgery, turned to Prince Charles and said: "I'm affa glaid yir here, but watch ma knees."
He added: "He says he understands the Doric, but I'm nae quite sure like," as the duke accidently bumped into his crutches.