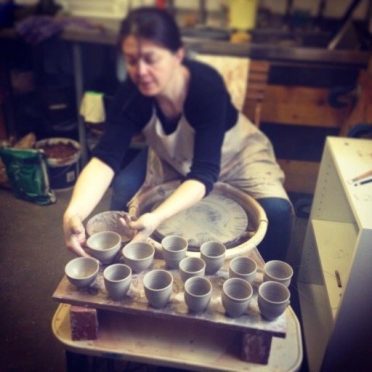 A ceramics artist based in the most north-westerly community in the UK is attracting international customers after her daughter helped her take the plunge with online marketing and social media.
Pieces created by Martina MacLeod in her remote workshop, a one-time military building in Balnakeil Craft Village, in Sutherland, are now being sent to customers across the UK and as far afield as Canada and the USA.
And her one-woman company, Mudness Ceramics, was yesterday named among 100 firms to feature in a nationwide campaign promoting the activities of small businesses.
Balnakeil Craft Village began to develop in 1964, in a collection of abandoned buildings, originally built to house an MOD early warning station at the height of the Cold War, but never used for that purpose.
Close to the village of Durness, the community is now home to a range of local artists and businesses, including a chocolatier, art galleries, various crafts and a hairdresser.
Originally from Austria, Martina moved there in 1991, working as apprentice potter for well-known ceramic artist Lotte Glob at her Far North Pottery.
Having developed her own style, she went on to open her business at the craft village, where as well as her hand-made ceramics, she sells peg loom woven rugs and hand-painted silk scarves.
Up until recently she mainly depended on passing trade and commissions for custom.
However, with the help of her daughter, Sophie Armstrong, she began to build Mudness Ceramic's online and social media activity a year ago. The move, she said, also helped the company's selection for the Small Business Saturday campaign.
"It's something I should have done ages ago," said Martina yesterday.
"My daughter has helped me do it, particularly with social media.  Most of our orders come from the UK, but we get them from other places too, with America and Canada the furthest away so far.
"I'm very pleased to have been chosen for the Small Business Saturday campaign and that's down to my daughter's help too.
"The business is slowly growing and we are getting more visitors this year than we did last summer, when the weather was bad."
One of Scottish tourism's recent success stories, the North Coast 500 road trip route, which runs close by Balnakeil, has also helped boost business.
"I've definitely noticed a significant increase in visitors to the area and for me personally there has been an increase in business from those travelling the North Coast 500," added Martina.
Now in its fourth year, the Small Business Saturday campaign culminates on Saturday 3 December.
The not-for-profit promotional drive was originally set up in the US by American Express and the credit card company remains it's principal backer in the UK.
The organisers say last year's campaign saw saw £623m spent with small businesses across the UK on Small Business Saturday, an increase of £119m or 24% on the previous year.
Campaign director Michelle Ovens said: "The British public has a great affection for small businesses and we continue to see that grow year on year.  Small Business Saturday is an exceptional example of collaboration and co-operation with small businesses teaming up in communities around the UK.
"Although the campaign focuses on one day, the goal is to have a lasting impact on small businesses by changing mind-sets, so that people make it their mission to support small businesses all year round."