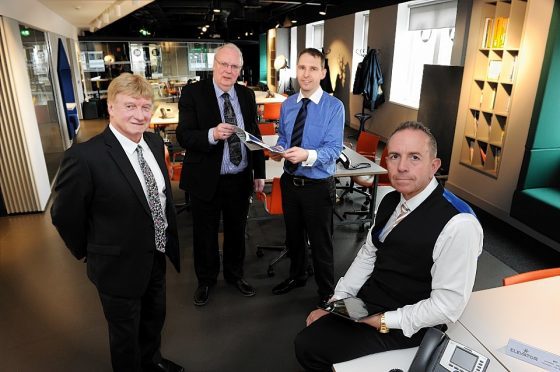 The seventh annual North East Business Week (NEBW) 2017 has fired the starting gun on a range of events taking place next week.
In addition to an event focused on the region's boom in craft gin makers, a main focus for the week will be Aberdeen and Grampian Chamber of Commerce's (AGCC) exhibition, "The Ultimate Business Show" (Tubs), which will feature more than 70 local exhibitors showcasing their products and services.
There will also be a new final event delivered by Opportunity North East (One), which will engage young business people and students from the universities and college in a facilitated discussion on future trends in business and society, and how these will impact on the major industry sectors in the region. One will also set out its short-term priorities before exploring the major trends that present new opportunities for the area's major industries.
Now in its seventh year, the event – which this year has the theme Opportunity Driving Growth – is led by core business support organisations AGCC, Elevator, Federation of Small Businesses (FSB) and Scottish Council for Development and Industry (SCDI).
Local organisations including Aberdeen University, Robert Gordon University (RGU), Developing the Young Workforce (DYW), Skills Development Scotland (SDS), North East Scotland College (NESCol) and Young Enterprise Scotland, will host a range of events across Aberdeen city and shire.
Elevator depute chief executive Graham Morgan said: "Every year we are encouraged by the enthusiasm we see in the business community to take part in North East Business Week, and we are always impressed by the level of discussion which takes place across the events. This year's theme is particularly relevant at a time when the region is going through a period of economic uncertainty. However, the quality of events on offer reflects the fact that there is optimism for the future and an appetite for the business community to come together and learn from each other.
He added: "Elevator's 'What's after gin?' event is going to provide a unique insight into how innovation can create business opportunities. There has been massive growth across the gin industry in Scotland in recent years and its success provides excellent learning opportunities for businesses operating across other sectors."
SCDI will host an Influencers Dinner looking at opportunities driving growth in the fishing industry with keynote speaker Ian Laidlaw, Chief Executive, Peterhead Port Authority.
North East Business Week will run from Monday 24th to Friday 28th of April 2017. All events for the week are listed on the North East Business Week website: www.northeastbusinessweek.co.uk