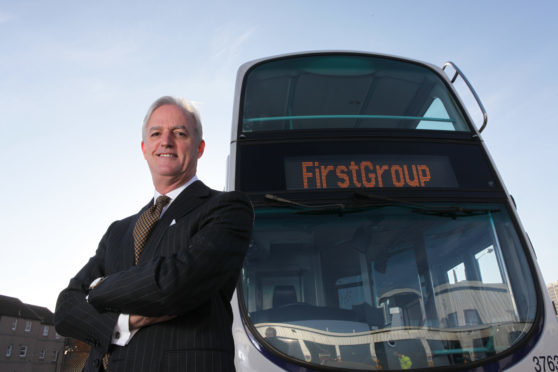 The departing chief executive of FirstGroup is on gardening leave and will be paid nearly £700,000 in lieu of sums owed to him during his notice period.
Details of Tim O'Toole's severance package were revealed yesterday, with FirstGroup also announcing extra pay for the man now temporarily at the helm of the Aberdeen-based transport giant.
FirstGroup reported Mr O'Toole's sudden exit, with immediate effect, on Thursday. It also posted pre-tax losses of nearly £327 million for the year to March 31 and delivered a warning on profits for 2018-19. Investors were spooked, causing FirstGroup's shares to sink nearly 20% and the FTSE 250-listed company's market value to plunge more than £260m.
Yesterday, the group said Mr O'Toole's employment would end on September 30.
He will continue to receive his current salary, benefits and pension until then.
A maximum payment of £699,167 in lieu of his salary, pension, car allowance and medical insurance for the unexpired period of his notice will be paid – subject to "mitigation" – in eight monthly instalments, starting in October.
Mr O'Toole, who received a £1.26m pay package in 2016-17, will also receive up to £9,000 a year for expenses relating to taxation advice for 2017-18 and 2018-19, as well as a capped contribution towards "reasonable" legal fees linked to his exit.
Payment of his deferred bonus from 2017 depends on investigations into the 2016 Croydon tram crash, when a FirstGroup derailment left seven people dead and more than 60 injured. He will receive no other bonuses.
Wolfhart Hauser, now executive chairman, will earn an extra £300,000 a year pro rata until FirstGroup has a new CEO.