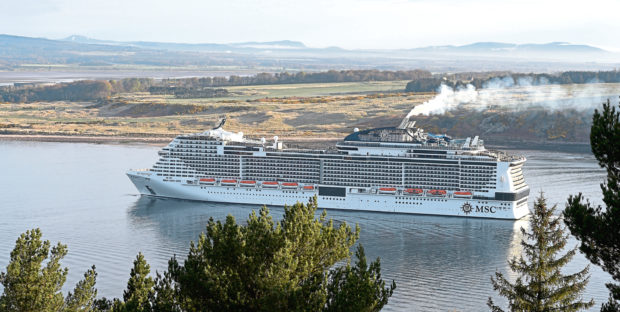 Scotland's booming cruise liner industry has sailed to new passenger number and vessel visit records this year, with north ports again proving the most popular for sea-borne holidaymakers.
Trade body Cruise Scotland said 2018 had seen a 16.75% year-on-year rise in the total number of passengers to 794,577, with an 8.4% increase in visiting ships to 825.
The season, which started in March and drew to a close this month, generated expenditure of £109.6m, and provided 1,139 full-time-equivalent (FTE) jobs and £28.8m in employee earnings, according to estimates by the organisation.
Invergordon, in Easter Ross, saw the greatest number of passenger arrivals, at 163,067 from 94 liner calls. Orkney had the most vessel visits, at 150, with a total of 150,000 passengers.
Aberdeen Harbour, which is aiming to capture a bigger share of the market when its new £350m Nigg Bay facility is completed, attracted 27 vessel calls, with 3,387 people aboard the visiting ships. At Stornoway, in the Outer Hebrides, where ambitious harbour re-development plans have been announced, 10,133 passengers arrived during 41 liner calls.
Cruise Scotland chairman, Rob Mason, said: "It's been another remarkable cruise season, with the trend in growth continuing – vessel arrivals were up 8.4% and passengers by 16.75% compared with 2017. Everyone involved in the success – directly through the ports and in the wide-reaching service sector – deserves a big vote of thanks for their support.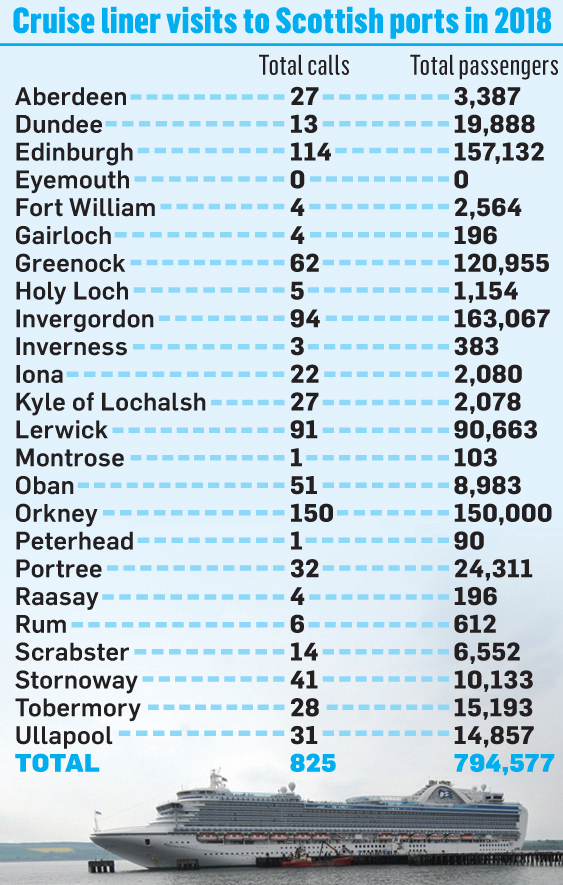 "We are committed to building on the achievements of the past decade by attracting more cruise ships and increasing the contributions to the Scottish economy."
Based on current bookings, 912 liners are heading for Scottish ports next year, with passenger numbers expected to be up by 15.8% at more than 920,000.
Cruise Scotland expects to see the annual passenger total pass the one million mark sooner than it had previously anticipated. Research commissioned by the body in 2010 forecast the number of visitors would be around 830,000 by 2025.
Mr Mason, added: "We will pass that figure in 2019. The million passenger potential was identified for 2029, requiring more than quadrupling the-then footfall, but growth has exceeded all our expectations and it should be achievable in the next few years if the expected trends continue in a competitive, global industry."
The success of the 2018 season was celebrated at dinner held at Edinburgh Castle by Cruise Scotland, with VistScotland and Transport Scotland.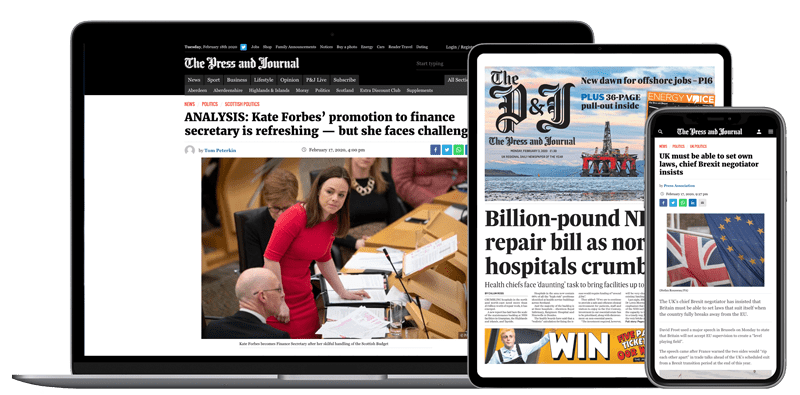 Help support quality local journalism … become a digital subscriber to The Press and Journal
For as little as £5.99 a month you can access all of our content, including Premium articles.
Subscribe