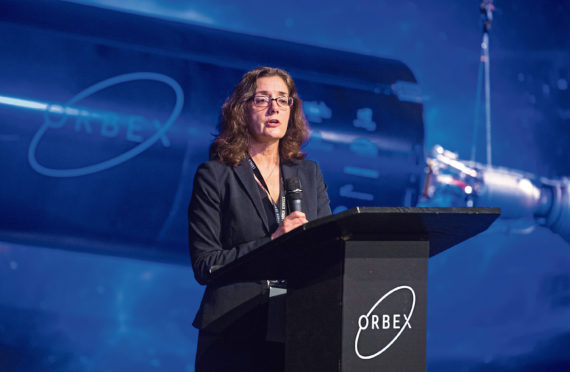 The north's new space sector could deliver the same kind of boost to communities as fish farming, according to an economic development chief.
Scottish Government-funded development agency Highlands and Islands Enterprise (HIE) has committed £17.5 million to establishing a spaceport on the A'Mhoine peninsula in Sutherland, where private spaceflight company Orbex hopes to start launching satellite-carrying Prime rockets from 2021.
Orbex opened its new headquarters and rocket design plant in Forres on Thursday.
HIE believes growth of the new sector could see the creation of about 400 supply chain jobs across the north, in addition to 40 direct posts at the launch site.
Charlotte Wright, the quango's chief executive, described this week's rocket factory opening in Moray as a "historic occasion".
Addressing leading figures from the UK and European space industry at the event, Ms Wright said it was the start of "a brand new sector" for the region.
She added: "Our track record is good on this and I will give you the excellent and successful example of the aquaculture sector, which started in the Highlands and islands.
"The space sector has the potential to make an equally positive impact on communities across the region.
---
>> Keep up to date with the latest news with The P&J newsletter
---
"The opening of Orbex's premises in Forres is one of the very first tangible signs that the sector is beginning to take root.
"It feels like a historic occasion and the benefits that the space sector will bring to our region are starting to become a reality."
HIE did not provide financial support to Orbex, but worked with the company on its selection of headquarters and manufacturing premises on Forres Enterprise Park.
The start-up firm has announced plans to create up to 40 jobs there this year and expand its workforce to around 150 people, including a number of posts in Sutherland.
Orbex chief executive Chris Larmour also revealed the firm is planning a second facility to accommodate its growth.
Mr Larmour said: "There were three good, practical reasons why we chose Forres.
"The first is that we need to be close enough to the launch site to get there and back in a day.
"The second is that not all staff will be local and we need a place that's attractive to people coming in, perhaps with families, with schools and shopping and so on.
"Thirdly, we need an airport that has commercial services constantly – for customers, for logistics and for parts."
He added: "We'll get around 40-50 people into the building we've got, but we're looking at a brand new factory as well.
"We're not committed to that yet . . . but assuming all goes well, we will need a bigger place."