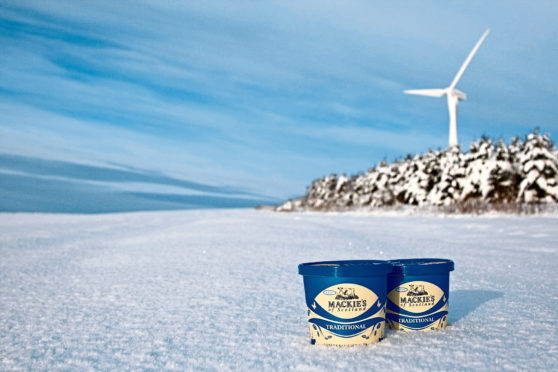 Mackie's of Scotland has won a major new contract to supply ice cream to M&S stores around the country.
Tubs of Mackie's traditional one litre ice cream will go on sale in 80 stores in a deal worth more than £100,000 a year.
The move is part of the north-east dairy farmers' bid to target "upmarket supermarkets".
The business, which grew 13% on last year thanks to record sales, has 22% of the Scottish premium branded ice cream market, ranking first among its competitors.
Bill Thain, Mackie's national account manager, said they were "delighted" to be welcomed into the "prestigious M&S Scottish range" and added: "It's very pleasing to be recognised for the quality and flavour of a product that we work so hard to make right."
Mackie's, unlike most of its competitors, is a small independent company producing the milk and the cream that goes into its ice cream as well as its own packaging on its family farm, Westertown, in Aberdeenshire.
In keeping with its "sky to scoop" philosophy, the milk comes from its own herd of cows, while the farm and factory are powered by the renewable energy it generates through wind turbines, solar panels and a biomass plant.
Emillie Emblin-James, frozen buyer at M&S, said: "Mackie's attention to being a green and ethical company while delivering a high-quality product are among the many reasons why we were keen to have its tubs on our shelves."