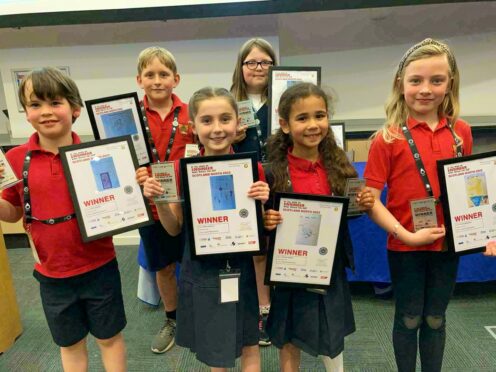 A Highland school won a prestigious UK teaching award and quickly followed that up with a run of prizes in an engineering contest.
It was a stellar week for Avoch Primary School.
Last Tuesday, Cath Milne travelled to London to pick up a prize for "bringing engineering to life."
Ms Milne is one of only two teachers in the UK to win the ERA Foundation David Clark Award. The prize recognises exceptional teachers who have gone the extra mile to inspire young people in engineering.
David Clark is one of the earliest pioneers of the internet, and he personally presented the award to Ms Milne at the ERA Foundation annual dinner on 17 May.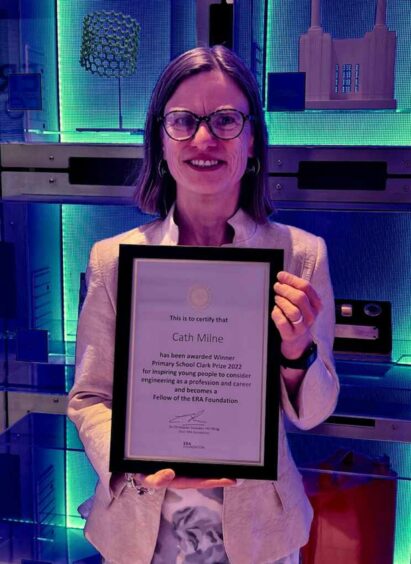 Ms Milne says she is "delighted" to win the prize, and become a fellow of the ERA Foundation.
"It is a real honour and recognition of all my work," she says. "I'd like to thank all the people – both adults and children – that I have worked with over the years and who have helped me achieve this tremendous award."
Pupils take on real life engineering challenges
Not to be outdone, Ms Milne's pupils scooped some prizes of their own the very next night.
Six pupils travelled down to the University of Dundee to claim their Primary Engineer Award on Wednesday 18 May.
The engineering competition tasked school pupils with looking at some of the world's challenges, and designing solutions.
Across the region there were only a few winners in each age group, so Avoch was thrilled to have four winners from P3/2, one in P4 and one in P5.
The children's inventions were:
Olly – smartphone charged by pedal power
Nicole – a vibrating bracelet to warn blind people of the dangers in front of them
Arthur – a phone that charges from the heat of your hand
Hanna – a tank that collects rain water for the toilet
Kirsten – a hairbrush that has a detangle spray in it
Millie – a medicine lolly for children
A further 13 pupils received a distinction.
Avoch head teacher Lynsey Third credited Ms Milne with inspiring pupils at her school and the wider associated school group.
"She has brought engineering to life and shaped how we deliver engaging STEM lessons," she added.
STEM in action
And it looks like STEM is about to get even better at Avoch.
As winner of the David Clark Prize, Ms Milne receives £3,000 for her school.
Avoch is already planning how to spend the money.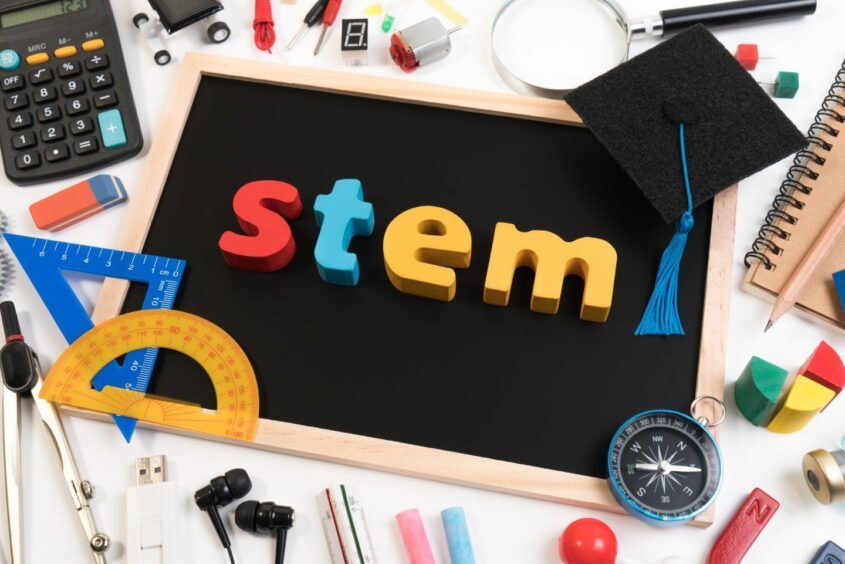 They hope to buy engineering kits that can be used by all ages for hands-on school projects, and to develop resources around hydraulics and pneumatics.
The school also wants to show STEM subjects in action, by arranging industry trips. Staff could benefit from a residential training course at the York STEM centre, and the school even hopes to arrange a trip to see the Large Hadron Collider.
"As a school we feel on cloud nine," says Ms Third. "The recognition for excelling in engineering for both pupils and teachers is an outstanding achievement, and we are all feeling very proud."
More from the Schools & Family team
Walk to School Week: Orkney pupils with an unconventional route to school
Parents of ASN pupils 'appalled' at teachers' 'degrading' WhatsApp messages
Stonehaven Nana says she's 'blown away' to win national award for Childline Aberdeen volunteering