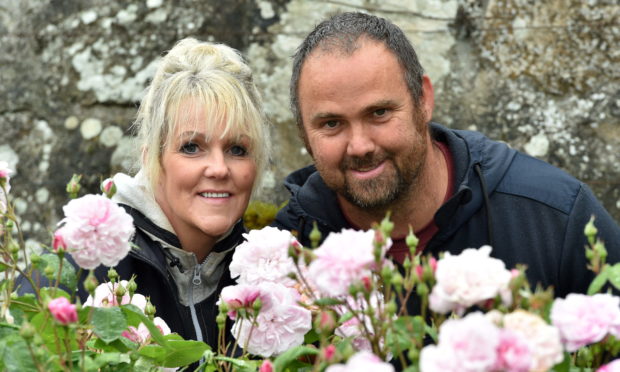 If you're lucky enough to wander around the grounds of Elsick House, you'll find yourself lulled by complete tranquillity.
Slip away into the walled garden which is awash with colour, or sample the grandeur of the long sweeping drive – bordered by beech hedges. Of course, at the heart of this estate in Aberdeenshire is a historical family home, well loved by royals and currently used as a wedding venue.
The sprawling property has been in the hands of the Bannerman family since 1367, and is currently owned by The Duke of Fife, David Carnegie, who is the great grandson of Ethel Bannerman.
But with the Duke based in Angus, a team of dedicated workers is needed to keep Elsick in tip-top condition. It's a tall order, with 1,500 acres of farmland and 12 acres of garden and arboretum – which surround the house on all sides.
With some workers living on site, what is the reality of estate life?
While Elsick is far from isolated, the location offers complete seclusion at Cammachmore near Stonehaven.
Despite many hours of hard toil in all weathers, Mandy Rough believes the estate has changed almost every aspect of her life for the better.
She has been running the gardens for two-and-a-half years, having offered a helping hand quite by chance.
And although Mandy is now a passionate and talented gardener, she had no prior experience of estate work.
Her move to Elsick has seen her undergo a complete career change.
"I was a personal trainer, so I could easily spend up to 16 hours each day under air conditioning in the gym," said Mandy.
"It all started because my partner, Alec, needed a bit of extra help.
"He is the grounds keeper here, so that's how I became involved.
"I realised quite quickly that I loved it, so I decided to do some courses."
The rest is history, and Mandy decided to give up the fitness industry in favour of the outdoor life.
She now lives and works on the estate, alongside Alec McDonald, who is slightly more seasoned. Alec was born and raised at Balmoral, and spent his summers taking the Royal Family out shooting.
"My dad was a painter and my mum was a housekeeper. Growing up on Balmoral was the norm for me," said Alec.
"We worked with the Royal Family every day when they were in residence over the summer, and Balmoral felt like a wee community for the workers.
"People would stay for their entire life; my dad must have worked at Balmoral for around 40 years.
"People move on much quicker these days."
Mandy, however, is only just getting started, and has been busy in the gardens throughout lockdown.
Although Elsick is only open for small gatherings and holiday lets, there is not a grass blade or petal out of place.
"Working outside, even on a rainy day, is just fantastic," said Mandy.
"We've been trying to introduce a bit more colour in the cottage garden this year, so you'll see loads of purple this summer.
"The weather is a challenge though, mostly because it's so unpredictable.
"Last year we really got to work on the walled garden, it was so warm early on in the year.
"Whereas this time round, it has been the opposite.
"My working day normally starts around 7.30am, which isn't something I mind at all.
"Once you venture into the gardens it's just so quiet and serene.
"Time stands still when you're surrounded by the birds chirping."
Mandy is not stuck for company, although her colleagues can be difficult to find.
"We've got roe deer, pine martins, foxes and a family of woodpeckers," she said.
"In the garden, it's myself and Alec.
"Then there is a house manager, two assistants and four farm workers – but we feel like one big family.
"We like to make sure that the gardens look pristine, particularly in the run-up to a wedding.
"There's weeding, dead heading, grass cutting or preparing the rose arch and hedges.
"It's so busy, you don't realise the time because the hours pass by so quickly."
Chives, lemon thyme and mint are currently flourishing in the herb garden, and Mandy is readying herself for fruit season.
You can also admire living art in the gardens.
"This year I made a wire bridal gown, which I really enjoyed," said Mandy.
"I never thought I'd be a gardener, but I am actually fitter now then when I was a personal trainer.
"It's far healthier to be out in the garden, and it's also good for your immune system.
"To be able to make the gardens not only look good, but to care for them and maintain them – there's no job quite like it."