Since its launch in summer last year2014, Barratt Homes' Mill Brae development in Bridge of Don has proven a major hit with first-time buyers, proving that owning a home in the city can be an affordable option for those looking for a first leg up on to the booming Aberdeen property ladder.
Aberdeen man Craig Maclean, 26, is one such buyer who, along with his fiancée Laura and new springer spaniel puppy, Layla, purchased his first home at Mill Brae in December using the Scottish Government's Help to Buy scheme.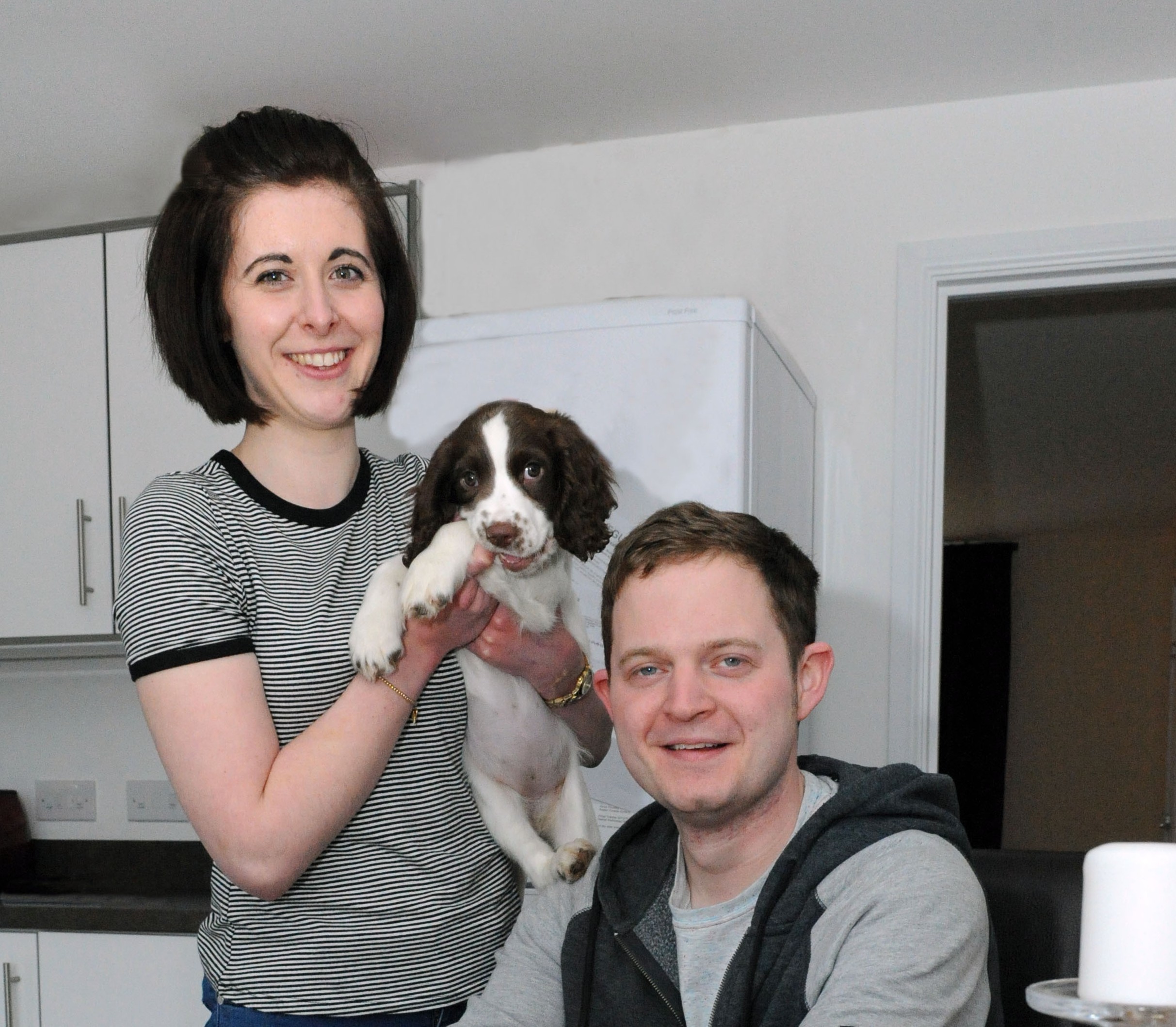 Craig is the ultimate ambassador for Barratt Homes, for not only is he a very happy customer, as assistant site manager at the company's Castlewell development in Ellon, he takes a great deal of pride and confidence in the knowledge that he has bought a top quality home built with the highest degree of workmanship.
"Mill Brae was an excellent choice for us for many reasons," Craig said.
"Firstly, we're just 20 minutes from work and going against traffic, so we are rarely stuck in queues. Also, because we could purchase using Help to Buy, we were able to buy our dream home. Finally, it offers a great environment and I know we'll feel very settled here. The rooms are bright and open, and Layla has a lovely big garden to play in."
As assistant site manager, Craig's role is to ensure homes at Castlewell are developed to the high quality standards and the required timescale specified by Barratt Homes and its customers. This means he knows exactly what to look for and what to expect in a quality home.
He said: "I have total confidence in the properties we build. My job has certainly given me an insight into what makes a good home and what I should expect as a buyer. What's more, Barratt Homes' five year warranty comes as standard, which is an added comfort for customers.
"During the buying process it was great to experience Barratt Homes' service from the customers' perspective, and not just as an employee. This will benefit my approach as assistant site manager going forward as I've now been a customer myself.
"I wanted no special treatment from the sales team, and I have to say they were fantastic. I was kept up to date with progress from day one and any questions were answered quickly. As a first time buyer I had heard stories about how stressful buying a property can be, but I found everything to be simple and straightforward.
"I'm really delighted with our new home at Mill Brae and so glad we made the move into home ownership with Barratt Homes."
Winner of best development at the 2014 Scottish Home Awards, Barratt Homes' Castlewell in Ellon is truly unique. Launched in 2013, the house builder's mission was to improve the built environment of the historic town, and develop an innovative, yet traditional, urban setting where people would aspire to live.
Comprising  114 properties ranging from one bedroom apartments to four bedroom detached family homes, the development offers variety in terms of design and price.
A range of two bedroom apartments and three bedroom family homes remain for sale at the current phase of the Castlewell development.
Prices start at £199,995 for a two bedroom apartment and, with a range of three bedroom terraced homes and four bedroom detached homes available, there is something for everyone.
Providing a pleasant break from the hubbub of city life, Mill Brae offers a range of high-quality two, three and four-bedroom homes in a quiet location just four miles from Aberdeen.
The development lies to the north of Bridge of Don, offering close access to local shops and schools as well as excellent commuter links to Aberdeen and great leisure opportunities including Aberdeen and Balmedie beaches, restaurants and golf courses. Prices start at £285,995.
For more information about Barratt Homes developments, please contact the marketing office on 0844 811 6655.