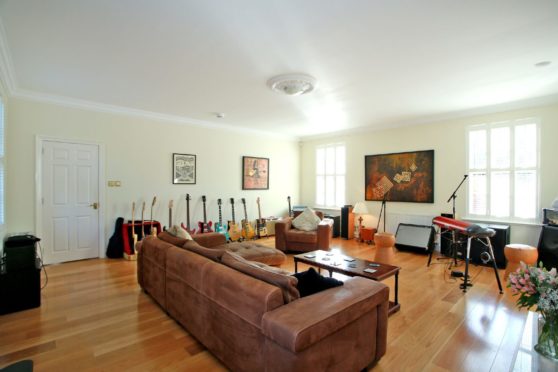 With its maze of sprawling rooms plus a gym with its very own sauna, it's fair to say that Merton is not your average family home.
This six-bedroom Georgian-style mansion can be found tucked away off Corsee Road in Banchory.
It offers extensive entertaining space and has welcomed dozens of guests, after Spike Evans moved in with his family 13 years ago.
Despite its period style, Merton has only seen three owners after it was built in 1995.
Spike and his wife Lisette arrived with their two children, Alun and Rhian.
Spike, who is winding down from the oil and gas industry, believes the time is right for a new adventure now the children have left home. And Lisette, who is originally from Italy, is eager to enjoy warmer climates once more.
"We met in Madrid and when we moved to London, I asked Spike why we came so far north because I felt the cold terribly," said Lisette, who is an artist.
"He only went and brought me to Scotland.
"We love it here and it will be a huge miss.
"But now the children have left home, we are just rattling about in here.
"We are very excited to move to Granada, but we plan to return to Scotland regularly.
"This certainly isn't goodbye."
Having arrived in the area without knowing much about the community, the couple were welcomed with open arms.
They say former Aberdeen footballer Doug Considine – father of current Dons player Andrew – has been an excellent neighbour, and many a party has been held at Merton in recent years.
"It was a family home originally and then it became a party house," said Spike.
"It's unbelievable how many people you can fit in, although the clean up the next day isn't so fun.
"Having worked in oil and gas, I only tended to mix with people in the industry.
"Then we moved here and everyone was so welcoming.
"It's one of the things we will miss the most, the people."
Spike has also been able to indulge his passion of music, and the impressive lounge is home to his extensive collection of guitars.
"I call the lounge my man cave," he said.
"I play in a blues rock band and we've had some good gigs.
"We played at the iconic Roundhouse in London not so long ago."
The lounge also features a lovely fireplace, and has ample space for furniture.
There is a dining room for more formal entertaining, alongside a further family room and gorgeous conservatory.
"We've been very lucky to have so many options, and our visitors have always loved coming to Merton," said Spike.
"The conservatory is a lovely spot in the summer months."
The couple believe they have not devoted as much time to Merton as they would like, due to the demands of work and raising a family.
It is in immaculate condition, however, and the dining kitchen would be a dream for those who love cooking.
It offers a more modern look with spotlighting and an informal breakfast bar.
An office, which could also be used as a library, completes the ground floor, alongside a utility room.
Beautiful sculptures and paintings, found throughout Merton, have been created by Lisette in her studio.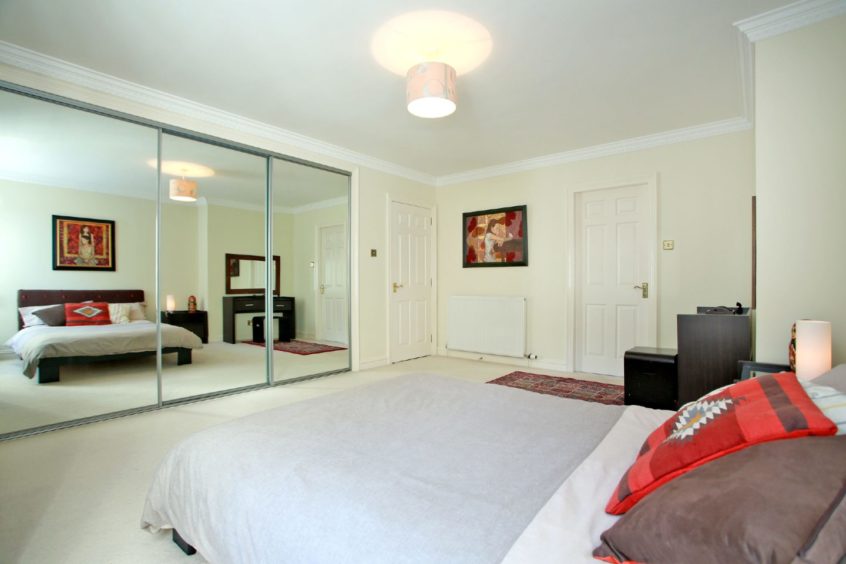 "It was what partly attracted us to Merton, the studio space," she said.
"It was previously used as a garage because the former owner collected classic cars.
"But the house already came with a garage and in my eyes, that was a bit of a waste.
"It didn't take long to turn it into a studio, and now it's a wonderful space for me as an artist.
"I can sculpt and paint in here for hours."
A grand staircase leads to the bedrooms upstairs.
The huge master bedroom comes with an en suite and a dressing room.
The en suite offers a separate bath and shower enclosure, with traditional black and white tiling.
A further bedroom also has an en suite and wall-to-wall fitted wardrobes.
The remaining bedrooms are all of a good size.
One bedroom is currently in use as a gym and comes with a sauna and steam shower.
"It was a fantastic house for the children as they grew up, they loved it here," said Spike.
Outside, there is an integral double garage with a large room above, which would make for a fantastic play room.
The rear garden has been thoughtfully landscaped and offers plenty of privacy.
"The garden has always been very easy to maintain, and it's great for a barbecue," said Spike.
"We fell in love with the area and we regularly go out on our mountain bikes up Scolty Hill.
"It's very special here, but now my ageing bones are calling for a warmer climate"
Offers should be made of more than £920,000.
Contact Aberdein Considine on 01330 824646.