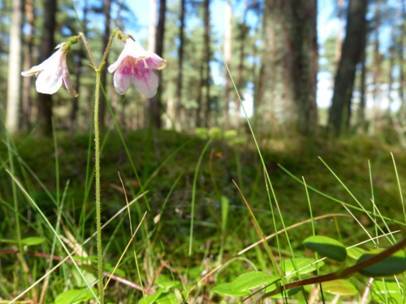 A patch of woodland home to one of Scotland's rarest wild flowers has been saved from plans to disturb its habitat.
Proposals by Forest Enterprise Scotland to fell trees in the Bin Forest near Huntly have been changed to protect the twinflower, which is restricted mainly to the north-east's pine woodlands.
Twinflower grows only in specific conditions and can only survive very light ground disturbance. When plans for large scale felling next to the habitat were first made, concerns were raised.
Jackie Cumberbirch, a Forest Enterprise Scotland environment ranger, arranged for a felling buffer zone to be put into place to ensure the protection of the iconic plant.
She said: "It was important to conserve this rare species, and working with Plantlife Scotland gave a more detailed understanding of its behaviour within this ecosystem.
"Through partnership we were able to establish plans which delivered both the commercial objectives of the neighbouring forest as well as ensuring the protection of the Twinflower."
Plantlife Scotland have said they will continue to monitor how the Twinflower responds to habitat changes.