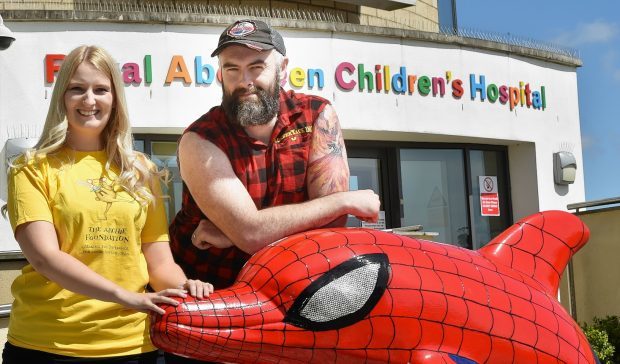 The man behind a festival of facial hair has joined forces with a charity for sick children to help grow its beard-based fundraiser.
The ARCHIE Foundation – the official charity of the Royal Aberdeen Children's Hospital – has turned to Scot Thompson for expert advice on bringing the Beards for Bairns appeal up to date.
Mr Thompson's company Lumberjack Inc – which hosts the Granite City Beard and Moustache Festival next month, will now sponsor the annual charity drive.
Attendees and competitors will be able to support the charity through donations and a raffle.
And Mr Thompson is preparing to persuade well-wishers to adorn themselves with some "wacky" whiskers at the end of the year.
Launched in 2011, the annual ARCHIE challenge asks men to get sponsored to grow a beard between December 25 and January 25.
But with changing fashions making wearing one less and less unusual, organisers realised they needed to spruce up the format and approached Mr Thomson, who was more than happy to help.
He said: "When Beards for Bairns started many years ago, growing a beard was a novelty.
"But nowadays it's very commonplace, so it's not such a crazy thing anymore.
"So we thought that for the next Beards for Bairns, we could encourage men to grow really different beards in really wacky styles to be different – maybe dye it, glitter it up, or just decorate it in some way so that people are aware they have their beard specifically for Beards for Bairns.
"ARCHIE is such a vital charity for the north-east, so we're extremely happy to be doing what we can to support them."
Claire Bush, head of fundraising for ARCHIE said: "We're looking forward to the festival – not only to raise money for The ARCHIE Foundation, but also to get lots of ideas for the next Beards for Bairns campaign.
"We hope to see some impressive styles of facial hair that will give our fundraisers some inspiration for their own beards and moustaches."
The festival will take place on August 6 at the Parkway Bar and Lounge in Bridge of Don.
For more information, search for "Granite City Beardfest" on Facebook.