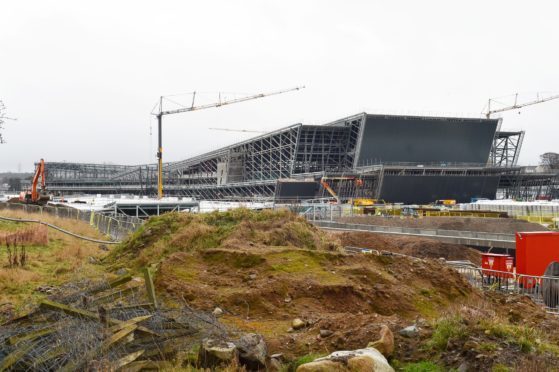 An Aberdeen construction worker caught up in a Home Office probe into illegal workers and organised crime has been jailed.
Rebani Kupa was part of the workforce on the new Aberdeen Exhibition and Conference Centre but has now been sentenced to 12 months behind bars.
The Albanian national spent more than 14 years working in Scotland using faked documents and under an assumed name and nationality.
His illegal status escaped notice until the UK Government launched an investigation into an Albanian organised crime syndicate.
That involved officials looking at staff working with a number of firms, including Kupa Steelfixing Ltd, which is one of the sub-contractors on the giant AECC project.
As many as seven Albanians – including Kupa – were subsequently detained following Home Office visits to the city.
Kupa Steelfixing Ltd has denied any involvement with organised crime, while the accused has denied any involvement in the running of the firm, despite his surname.
The 35-year-old, described as a prisoner at Edinburgh, admitted being in possession of a faked UK resident permit in the name of Rebani Mehaj on the AECC construction site on May 16, 2017.
He also admitted using a false identity and false name in order to work when he would otherwise have been disqualified from doing so by way of his immigration status.
Kupa claimed to be a Kosovan national and gained false paperwork in order to move to Scotland for the first time in 2000.
He remained in the country for around eight years and then returned in 2012, using the same assumed identity, and continuing to work until Home Office officials swooped on the Bucksburn construction site.
Kupa told Aberdeen Sheriff Court he had worked throughout his time in Scotland and had always paid national insurance and tax.
That work ethic was not, however, enough to persuade Sheriff William Summers to stay his hand.
He told Kupa: "These are serious offences.
"They offend against the integrity of the Home Office immigration system and there is no alternative to custody."
The court was told the accused's immigration status remained "unclear".
The Robertson construction group, which is leading the AECC project, has pledged to assist with any further Home Office investigations.