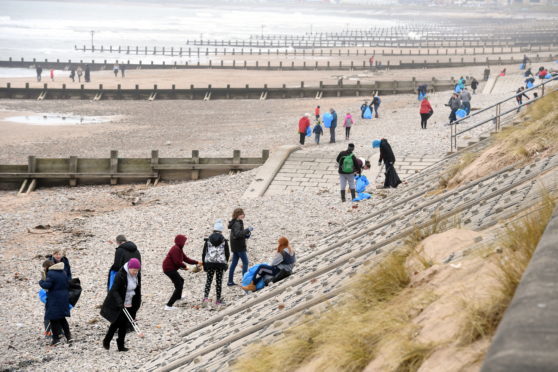 Volunteers from across the north-east filled dozens of bags with rubbish during a clear up of Aberdeen Beach at the weekend.
Fishing nets, a boat fender and discarded birthday balloons were among the items collected by about 120 people on Saturday.
The clean-up, which also covered the Donmouth Nature Reserve, was one of 500 organised by conservation charity Surfers Against Sewage across the UK.
Marine scientist Jenny Smith, one of the organisers, hailed the event as a success yesterday.
She said: "We collected about 100 bags of rubbish and sorted it out into 60 bags of plastic and 40 of general waste.
"In total we found about seven tyres and some of our volunteers had to roll them up the beach and even shovel them out from the sand.
"One appeared to be from a tractor and another seemingly from a monster truck."
Surfers Against Sewage aims to remove 30,000kg of rubbish from the country's coastline, and recruit 20,000 volunteers to help with the mission over the spring.
Tackling plastic pollution is its main priority.
The group hopes to improve the water quality of the sea and help make it a safer place for marine mammals.
Ms Smith said people of all ages had volunteered.
She said: "It's a good feeling seeing everybody willing to pitch in and help make our beaches a little cleaner and safer.
"I often see the same families and kids coming back because they had such good fun the last time.
"You really feel like you are part of a community."
Although the scientist said more needed to be done to prevent plastic from polluting the sea.
Further beach cleans have been organised to take place around the coast of Scotland for Saturday.
Volunteers are asked to meet at Scalpay in the Outer Hebrides at 11am, or the St Cyrus beach visitor centre at 3pm.