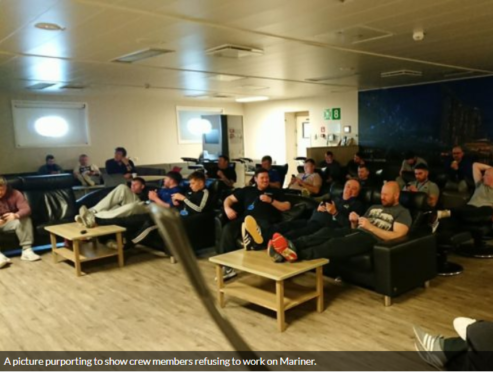 Strike action on a major North Sea oilfield development could dent efforts to attract much needed investment to the sector, an industry chief has warned.
Deirdre Michie, chief executive of Oil and Gas UK (OGUK), said the outbreak of unofficial industrial action at the Mariner field over the weekend was "unhelpful".
The Scottish Government urged workers and employers to resolve the dispute through dialogue.
Crew on the £4.5billion Mariner project downed tools for eight hours in total on Saturday in a protest against alleged poor working conditions.
An offshore whistle-blower said more than 200 took part in the unofficial "sit in" on the installation, located east of Shetland.
A picture published online appeared to show large numbers of workers sat in a social area refusing to work.
They are believed to have declined to work overtime on Sunday.
It is understood that a previously arranged visit to the field by management will go ahead as planned today (Monday).
The crew members involved are employees of Aker Solutions and Stork.
A spokesman for the workers claimed they were unhappy with working conditions and the situation surrounding bonuses.
Crew members are tired of "getting treated like dirt," he said.
Trade union sources suggested a lack of accommodation had led to unfavourable changes in shift patterns.
A spokesman for Aker said on Saturday: "We have been made aware that some workers based at the Mariner field have chosen not to work today.
"The company has received no official notification of this activity and is looking into this matter."
The firm did not issue an update yesterday.
A Stork spokeswoman said: "We are aware of the situation on Mariner and are in dialogue with its personnel to resolve the situation."
Ms Michie of OGUK said: "We are aware of the unofficial action and would encourage those involved to follow the official channels available.
"However, industrial action is not helpful for our sector, which is doing all it can to attract new investment, which in turn will help secure jobs.
"We are sure all parties are looking to resolve matters as soon as possible."
A Scottish Government spokeswoman said: "We would encourage continued dialogue between all parties to reach a prompt resolution."
The Mariner project, operated by Statoil, is currently in the hook-up and commissioning phase ahead of first oil later this year.
Mariner is expected to yield 250million barrels of oil over its 30-year production life and create 700 long-term jobs.