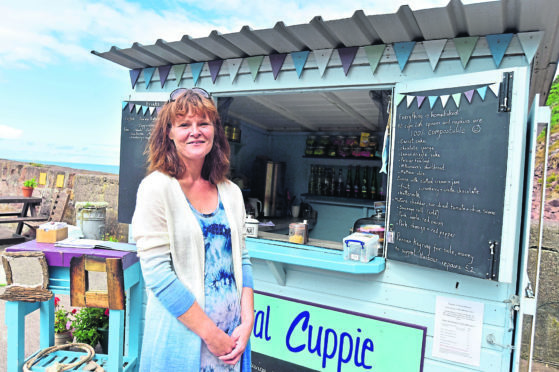 A trust has launched plans to create a cafe to help pay for the upkeep of the iconic harbour at Pennan.
The village was made famous in 1983 after it was immortalised by the Burt Lancaster comedy-drama Local Hero.
Both the Pennan Inn and distinctive phonebox have a starring role in the movie and the tiny coastal community has been a draw for fans ever since.
The café would sell refreshments and craft items made in the village.
Documents submitted along with the planning application to the council said the new venture would bring "much-needed revenue" to the harbour.
The money would help pay for repairs and future development of the site.
The report, signed by Pennan Harbour Trust chairman Alistair MacKenzie, said: "The facility will provide much-needed revenue for Pennan Harbour and will add a very significant visitor amenity to the much visited village.
"Evidence gathered in a visitor's comments book available at the existing, temporary facility confirm the very positive reception that the facility has received from regional, national and international visitors.
"It leaves little doubt to the improved amenity achieved and the contribution derived to the visitor experience."
The new café would replace the Coastal Cuppie, which has been operating in Pennan since last summer.
Shona Steven, who has been brewing up hot drinks and snacks out of the converted shed since it opened last year, hopes to be involved in the new café.
Miss Steven said: "The planning application is for a new shed and hopefully it will withstand the winter storms.
"At the moment I am working out of an 8x6ft garden shed that has been adapted.
"I have served people from all over the world, including Australia, Spain France, Norway and Sweden."
Pennan has been popular for tourists since Local Hero was released in cinemas 35 years ago.
The village inn was featured prominently in the film and a plaque on the outside marks its starring role.
The Pennan Inn was due to close this month, but owner Peter Simpson had a change of heart thanks to customer support.
Mr Simpson faced financial difficulties after the oil downturn and new drink-driving laws, but locals rallied round and convinced him to carry on.