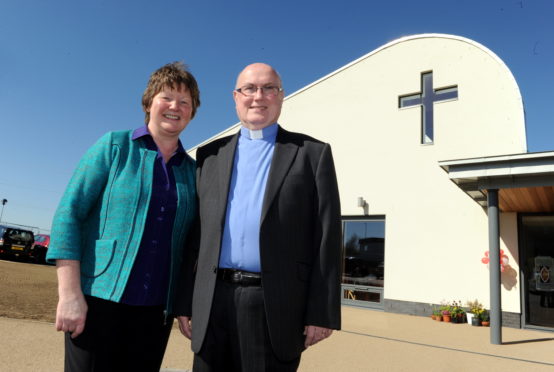 An Aberdeenshire church has voted to quit the Scottish Episcopal Church in a row over its "future trajectory".
Members of Westhill Community Church have overwhelmingly voted to breakaway from its denomination following a long-running row about how the organisation is adapting to modern life – and its acceptance of same-sex marriage.
The move comes less than a year after Scotland's first female bishop, the Right Rev Anne Dyer, arrived in Aberdeen.
---
>> Keep up to date with the latest news with The P&J newsletter
---
Last night Westhill's Rev Ian Ferguson said the decision was "heartbreaking" but argued it is necessary for its members to fully recognise the teachings of the Bible.
He previously he wrote a letter expressing his concerns about the church's acceptance of same-sex marriage, but insisted the decision to leave the SEC was more nuanced than that.
"People have different kinds of concerns about all kinds of things, and it's not just one thing," he said.
"This has been an ongoing matter where a number of us throughout Scotland have been concerned about the direction the SEC has been going in."
The issue came to a head in 2017 following the church's decision to allow gay marriage and its appointment of the Rt Rev Dyer, who supports the idea, last February.
It led to several members of the Aberdeen and Orkney Diocese resigning their posts, including Rev Ferguson.
Earlier this month he signed an open letter saying it was not too late for the bishop to quit her post amid continuing discontent over how she was appointed.
Rev Ferguson said his opposition to her appointment was solely to do with the selection process.
"For me it was nothing to do with personality or her gender or anything at all like that," he added.
"There are other reasons as to why I resigned as Canon.
"It wasn't personal from me point of view. Whether she took it that way is another matter."
On Thursday, 87% of Westhill Community Church's members voted to leave the SEC.
Rev Ferguson said: "I'm deeply sad that this stage as arrived it breaks my heart.
"I have been in the SEC for a number of decades and I certainly didn't want to be in this position.
"It's too early to say at the moment what's going to happen next.
"We'll continue to be Orthodox Anglicans and we will not be creating another denomination."
He added: "We are just trying to get our heads around the vote because it's still very fresh."
Rt Rev Dyer, Bishop of Aberdeen and Orkney, said: "The congregation of Westhill Community Church is a much-loved and valued part of our diocese, and I am deeply saddened that they have indicated that they want to pursue potential separation from the SEC.
"I will continue to work with Westhill as we begin discussions to enable this potential separation, and will continue to pray for the rector, vestry and congregation members in the weeks and months ahead."
And the Most Rev Mark Strange – Bishop of Moray, Ross and Caithness and Primus of the SEC – said the organisation is working to "strengthen its role" within the Anglican Communion, particularly ahead of the major Lambeth Conference next year.
He added: "I will pray that, painful though this process will be for the church and for the local diocese and wider community, we will all remember that we are all striving to serve as disciples of Christ.
"We will continue to pray for unity and understanding as we strive to further the mission of God to our nation and around the world."
Same-sex marriage vote was 'momentous'
In June 2017 the Scottish Episcopal Church's national assembly, the General Synod, voted to allow same-sex marriage.
At the time, then-Primus the Most Rev David Chillingworth hailed it as a "momentous step" but acknowledged that there were differences of opinion within the organisation which would need to be addressed.
Later that year the Rt Rev Anne Dyer was appointed a Bishop – notable by being the first woman in the role, and also for her beliefs regarding gay marriage.
Several months later Rev Ian Ferguson called the Synod's decision "insensitive and disrespectful".
He resigned from the Cathedral Chapter and said that his Diocese had overwhelmingly voted against the "revisionist agenda" to allow priests to officiate at gay weddings.
In his letter to SEC bosses, Rev Ferguson wrote: "Our Bishop at the time publicly stated his opposition to such a revisionist agenda, which reflected not only his own personal view but that of our Diocese.
"Yet, despite all of that, you have put into position a new bishop who not only supports same-sex marriage but has conducted same-sex weddings."
There was further anger about the appointment earlier this month because Rt Rev Dyer had not been directly elected.
Row continues over appointment of new north and north-east bishop
Several members of the clergy, including Rev Ferguson, penned an open letter to the SEC.
The group said the appointment went "directly against the established wishes of the Diocese" and had caused "unnecessary anguish and distress" and prompted a number of resignations.
Breakaway groups
This is not the first time members of a Scottish church have voted to break away from their denomination.
In February 2013, Rev Dominic Smart of Gilcomston South Church announced his official resignation from the Church of Scotland over its decision to move towards allowing gay people to take leadership roles in the church.
The ruling was sparked by the appointment of Rev Scott Rennie to Queen's Cross Church in Aberdeen in 2009. At the time, he was the only openly gay minister in Scotland.
And in June 2013, more than 200 members of the Stornoway High Church, including its entire Kirk of Session, left the Church of Scotland over a gay clergy row.
The group said the departure had been sparked by the denomination's "continuing departure from Biblical teaching on various issues."
It now meets as part of the Free Church, which has since had many other congregations requesting to join.
It caused the Free Church to set up a task force to deal with the influx in requests.
The group was chaired by Inverness minister Rev David Meredith, who said: "We are conscious that the process of disengagement from the Church of Scotland has been a painful experience for them but we hope we can offer a home which presents a Biblical vision for contemporary Scotland."
And in 2011, Trinity Church in Aberdeen left the Church of Scotland in favour of the International Presbyterian Church.
Headlines at the time reported a disagreement over gay clergy, but the breakaway group said the issues amounted to wider fundamental differences relating to how the Bible was being interpreted.
The decision to leave meant that it lost the use of High Church Hilton, as it was owned by its former denomination.
In December it was handed the keys to a permanent new base on Queen Street in the city centre.