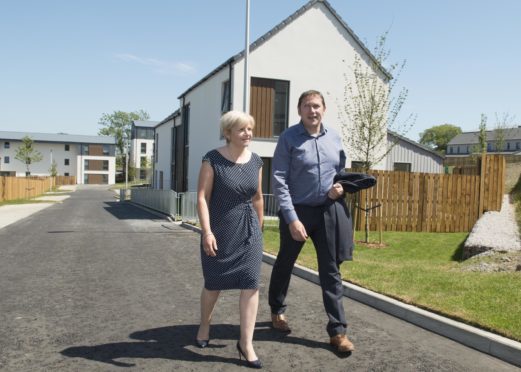 A high-profile pledge to build thousands of council homes in Aberdeen in five years has been branded as "utterly unachievable" by critics.
The ruling Conservative, Aberdeen Labour and independent administration promised to deliver 2,000 new properties during their term after being elected in 2017.
But, while hundreds of homes are currently in the planning stage, with sites allocated for their construction, just hundreds have been built with the coalition now more than two years into their tenure.
Council co-leader Jenny Laing announced last night that work would soon begin in Summerhill and Dyce.
A total of 368 homes are planned for the former Summerhill Academy site on the Lang Stracht, while 284 more are proposed for a vacant piece of ground near the airport.
The authority has also unveiled a new "buy back" policy for former council houses which meet certain criteria to add to its existing stock of more than 22,000.
But last night opposition councillors said they "wouldn't hold their breath" for the target being met.
SNP resources spokesman Alex Nicoll said: "The administration promised big on delivering housing in this city, but we know that they are already long behind schedule both in terms of affordable housing and council housing.
"The reality is that their headline plans of bringing 2,000 council houses on stream by 2022 is looking utterly unachievable – which is no surprise given that the likes of the Kincorth Academy site hasn't even been demolished yet."
Liberal Democrat infrastructure spokesman Steve Delaney said: "With over 6,000 individuals and families on our waiting list, we urgently need more council homes.
"Two years down the line, (the administration) has delivered less than 10% of the target.
"There are several hundred others in the pipeline, but I struggle to see how 2,000 can be achieved with less than three years to go.
---
>> Keep up to date with the latest news with The P&J newsletter
---
"Thousands of individuals and families are desperately waiting for a new home, they are people who can't afford to buy and are currently priced out of the private rental market.
"For their sake, I would welcome the completion of 2,000 new council houses by May 2022 and I truly hope it does happens.
"But I'm not holding my breath."
Mrs Laing said: "This administration made a commitment to address the continuing crisis in affordable housing by building 2,000 new council houses over a five-year period.
"We can confirm that we are to make an announcement next week confirming that the biggest council house programme since the 1970s is about to begin with council house building commencing in Summerhill and Dyce."
"It is difficult to take the SNP and Liberal Democrat opposition seriously when under their watch the council built less than 100 homes which included houses unfit for human habitation in Northfield.
"I am proud that this administration agreed to set aside £250m to ensure it delivers on our promise to the electorate to build 2,000 much needed council houses including homes for those on our waiting list, those who are homeless, those with disabilities and those who have served in our armed forces."