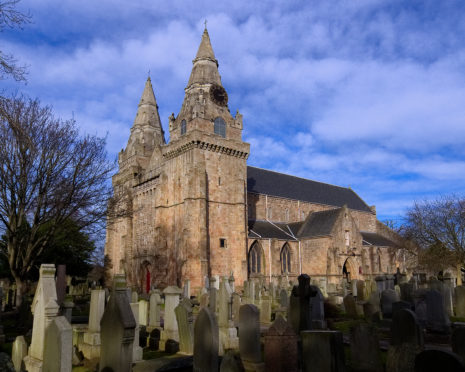 One of the north-east's oldest churches has received a Christmas funding boost.
A £40,000 grant has been donated to St Machar's Cathedral in Aberdeen by the National Churches Trust.
The money will be used to fund extensive roof repairs at the A-listed cathedral – making the church watertight and preserving its historic fabric.
Alan Grant, session clerk at St Machar's, said: 'The renewal of the roof at the Cathedral Church of St Machar will protect this ancient building and its magnificent ceiling for the next 100 years, and sustain it as a place of worship, a venue for musical performance and a focal point for the community we serve.
'The support of the National Churches Trust is greatly valued and has moved us yet closer to our funding target.'
An ambitious fundraising project was launched last month to raise funds for the building. With around 25,000 visitors a year, it is a major tourist attraction for the city.
Most of the existing structure was built between 1380 and 1520 and it is believed to have first been a place of worship in the sixth century.
Following his execution in 1305 in London, William Wallace's arm was buried within the walls of the  historic building.
The central tower, crossing and transepts collapsed in 1688, leaving the nave, and turning a cruciform church into a basilica.
Broadcaster Huw Edwards, vice-president of trust, said: "The UK's historic churches and chapels are a vital part of our national heritage.
"But to survive, many need to carry out urgent repairs and install modern facilities. The cost of this work is far beyond what most congregations can pay for themselves.
"I am delighted that the Cathedral Church of St Machar in Aberdeen is being helped with a £40,000 National Churches Trust Cornerstone Grant. The work on the roof will help secure the future of this important and much-loved historic building."
The grant was part of a £523,000 funding payout from the trust.
The charity supports church buildings of all Christian denominations across the UK and 63 churches and chapels will benefit from their latest round of grants.