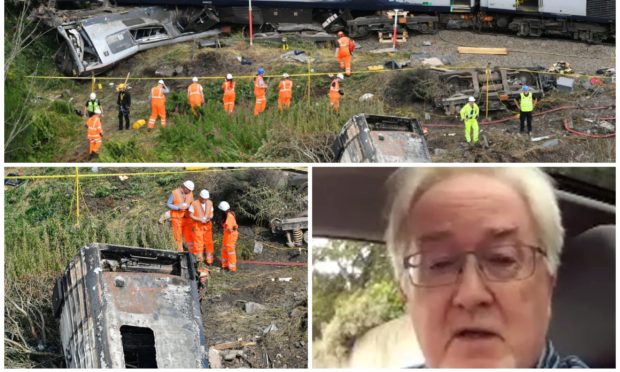 The editor of Britain's biggest railway publication says the industry as a whole has been left "devastated" by the Stonehaven derailment and will need to "work very hard to pull back from this".
Chris Milner, who has worked for The Railway Magazine for 30 years, said the disaster in Aberdeenshire on Wednesday is "by far the most serious incident we've had for a very long time".
He explained that since the Ladbroke Grove rail crash 21 years ago London, where 31 people were killed and 417 injured, those working on Britain's railways have made major efforts to ensure safety is paramount.
Mr Milner said: "The industry is very shocked, very saddened, and quite devastated by this terrible accident.
"The railway has strived exceptionally hard since the Ladbroke Grove accident in 1999 to improve rail safety throughout the country and make not only trains safer, but help passengers feel safer as well.
"There's been the adage in the industry that everyone comes to work, and goes home safely in the same day, and that's gone on for many years, so for this to happen now is quite shocking."
Mr Miller said he believes the matter of managing extreme weather incidents such as the torrential storm that preceded the crash on Wednesday is becoming an "increasingly important issue" for the wider railway industry.
He said: "One of the things I've noticed working on the magazine is there is a larger number of reports of landslips or lines being closed due to flooding than we've ever had before in the past.
"Now whether this is down to maintenance issues, or a combination of several issues with the exceptional weather we've been experiencing over the past four to five years is not clear at the moment.
"Only yesterday we heard about another landslip in Wales, and I know there's been landslips on the west Highland line and one or two other places.
"Landslips are nothing new, but Network Rail as infrastructure owner has to work exceptionally hard to try to mitigate such incidents."
When asked if the derailment has had an effect on passenger and staff confidence, Mr Miller said: "I don't think some of the national headlines have helped at all.
"This is a pretty isolated incident with regards to a train hitting a landslide.
"We've had a few trains derailed because of landslides where the trains remained upright, but this is by far the most serious incident we've had for a very long time."
He added: "But I think it's important at a difficult time like this, when trains are running at pretty much 20% capacity or thereabouts, that passengers do feel confident and are wanting to come back and on the rail.
"Despite this accident, rail does remain one of the safest forms of transport in this country, far safer than bus travel, motorcycles, bicycles and cars."
The magazine editor explained that because of the close nature of the rail industry, the emotional impact of the tragedy on Wednesday was particularly severe.
"Railways are a very close-knit community", he said.
"A lot of people are desperately sad about this. To lose both railway staff and a passenger is terribly sad and everyone is sending their condolences to their bereaved families.
"A lot of people on Twitter have changed their profile pictures to reflect the sadness of the situation with either a black Saltire or a black British Rail logo as a mark of respect for the passed.
"I've been in the industry for 30 years, and we tend to look after each other and help each other out."
He added: "The industry is going to have to work very hard to pull back from this.
"Network Rail are already going to investigate similar sites with other problems, and I do know that they have had movement detectors at sites where they know landslips occur so they can be monitored – and maybe they need to do more of this monitoring."