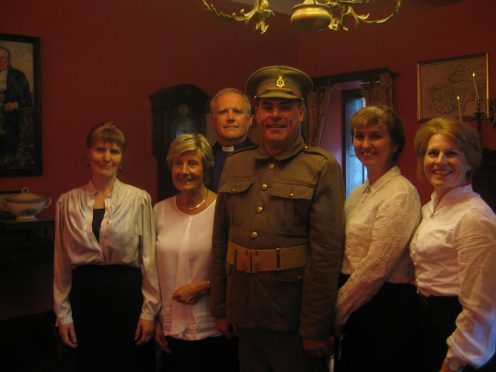 A historic Aberdeenshire castle will transport its audience back 100 years for a special concert to commemorate those who perished during World War I.
The annual Great War-era concert takes place at Braemar Castle on Sunday – and this year's tribute will mark 100 years since the battles of the Somme and Jutland.
The unique performance has added poignancy because the stars are donning authentic period garb, bringing to life a 1916 fundraising tea.
The show will raise funds for the Braemar Castle Restoration Fund.
Performers Fiona Hunter and Peter Mulvey are playing a real-life couple, the castle's 14th laird Captain Haldane Farquharson and his wife Zoe Farquharson.
Moira Docherty will take on the role of Phyllis Dare, Colin Hunter the fictional character of Captain Andrew Wilson and violinist Louise Counsell will play Louise Jolly.
Church organist Eva Robertson will highlight her piano skills and there will be songs, music and poetry from the era, whilst the character of Mrs Farquharson will pay tribute to the local men killed between August 1915 and 1916.
Mrs Hunter said: "Every year, depending on of the local lads who died on that centenary year, I do a bit of research about where they would have been serving.
"This year in particular, we will be speaking about the fact the Somme just kicked off and there being gas attacks as well.
"Definitely people in the audience find it moving. At the end, we all stand up and sing God Save the King, and there have been some tears. Last year, people were quite moved."
Tickets cost £8 for adults and £5 for concessions, and include afternoon tea. They can be booked at www.braemarcastle.co.uk. Tea will be served from 4.30pm with music at 5pm.