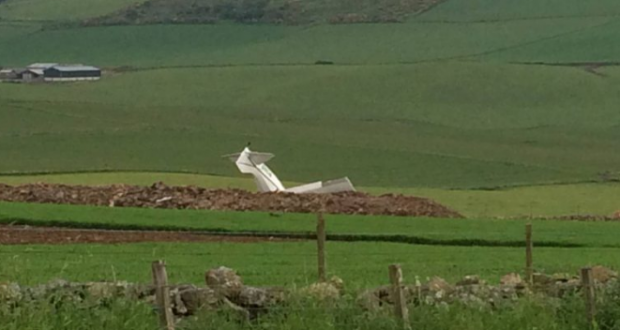 The pilot of a plane which crash landed in an Aberdeenshire field had followed his GPS to an airstrip that "does not appear to exist", investigators said.
The Maule MX-7-160 was written off after clipping a wall and ending up on its nose a mile north-west of the Guise of Tough last summer.
Amazingly the 53-year-old pilot, who has a US flying licence, and his passenger escaped injury despite the "substantial damage" to the aircraft.
The Air Accidents Investigation Branch (AAIB) said the pair had flown 40 miles from Forfar, Angus and planned to land at Meikle Endovie – a spot marked on his Garmin navigation device as a microlight / sports aircraft site.
When he could not make out a landing strip, the pilot descended to 600feet and circled three times with his landing flaps deployed in a vain bid to locate it.
But as he gave up and turned north the plane suddenly plummeted, struck and wall and a fence and flipped over after encountering a "severe downdraft".
It happened at around 6.30pm on Thursday, June 23.
The AAIB report said the pilot – who had well over 1,000 hours' flying experience including 620 in similar aircraft – blamed a "mountain wave" of turbulence which he had encountered earlier while flying near the Grampian mountains.
It said the aircraft's destination was "not a recognised airfield" and that the GPS manufacturer told investigators that "Meikle Endovie is not in the current database".
"The airfield that the pilot was attempting to locate does not appear to exist," the accident investigation report concluded.
A dramatic image of the upturned plane was snapped by an intrigued local resident as emergency services – alerted by the aircraft's emergency beacon which was triggered by the crash – rushed to the scene.
The damage to the 23-year-old aircraft left it "beyond economic repair", the report said.