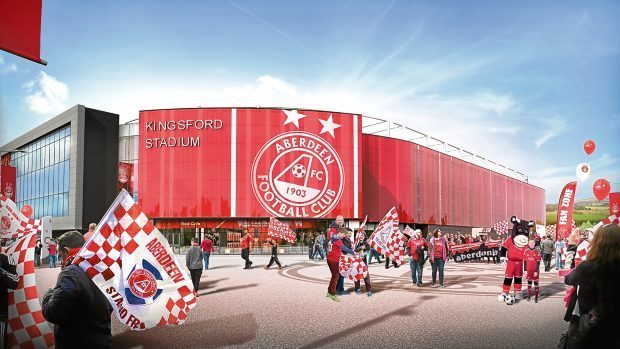 Aberdeen FC officials and their fans spoke of their delight yesterday after it emerged that the Scottish Government would not call in the club's application for a new £50m stadium.
The controversial scheme was expected to be scrutinised by Holyrood officials after the development was given the green light by Aberdeen City Council at the end of January.
However, the Scottish Government has now written to the local authority, stating it will leave the application in the hands of the council.
Dons chairman, Stewart Milne, reacted positively to the announcement yesterday and said he hoped it would bring the long-running saga closer to a resolution.
He added: "We welcome the Scottish Government's confirmation that Aberdeen City Council can proceed to determine our planning application.
"We are keen to begin construction of the community and training facilities as soon as possible.
"The next step is to progress the terms of the legal agreement with Aberdeen City Council and work with all stakeholders on agreeing and meeting the conditions."
The Dons Supporters Together group, the majority of whose members back the Kingsford move, was upbeat about what they regard as a positive step forward.
DST chairman, Gordon Duncan, said: "We are encouraged to hear of the latest news and it would seem that commonsense has prevailed.
"There shouldn't be too many hurdles left now for the club to begin building the training hub that we desperately require and it will then be up to the club to engage with supporters to ensure the best possible stadium is built thereafter."
However, the No Kingsford Stadium organisation, which has opposed the plan for the new facility, said it was not admitting defeat in its fight.
It will now press forward with a judicial review, over concerns about several aspects of the development, including parking issues, and the argument the application breaches the local development plan.
Aberdeen City Council revealed it intends to work with Aberdeenshire Council to address any outstanding problems.
A spokeswoman added: "The Scottish Government said that the issues raised by Aberdeenshire Council [who opposed the stadium complex 12 months ago] 'are not of national significance to have bearing' on the decision not to call it in.
"The notification further said the Scottish Government expects Aberdeen City Council to have regard to the matters raised by Aberdeenshire Council.
"We will accordingly consider these matters and liaise with colleagues at Aberdeenshire Council on these matters as necessary."