A bird of prey which went missing above a north-east estate has sparked a war of words between a leading animal welfare charity and the landowners.
The young golden eagle had been exploring the eastern Cairngorms when it went off the radar at the North Glenbuchat Estate near Strathdon.
The male, under a year old, had been satellite-tagged by the Scottish Raptor Study Group but stopped collecting data between March 5 and 6.
A police and RSPB Scotland inquiry was launched following the disappearance of the bird, which had only fledged from a Deeside nest in summer last year and was known as "bird 338".
The investigation remains ongoing.
RSPB Scotland's head of investigations, Ian Thomson, said the golden eagle was presumed dead as he appealed for anyone with information on it to come forward.
However the estate hit back at the claims and said the eagle's transmitter was faulty.
It uploaded footage of a bird of prey which it claimed was taken on Thursday afternoon and showed the missing predator.
Mr Thomson added: "It is deeply concerning. These satellite transmitters are exceedingly reliable bits of kit and for one to disappear inexplicably is pretty unusual.
"The fact that so many young birds, which are the future bird population, have disappeared on just one estate is deeply concerning.
"We notified the police as soon as possible, they agreed with us the circumstances here were highly suspicious.
"What we have to say on this case is no crime has been confirmed and we have to acknowledge that, but quite rightly the witness to this is the data from this tag.
"It was working well, getting fantastic positional information. It was churning out data. For a tag to just suddenly to disappear like that is a cause for concern.
"You have to strongly suspect human interference."
Laura Sorrentino, director of the North Glenbuchat Estate, said the golden eagle's "transmitter appears to have stopped working".
She added: "RSPB suggests that the bird has died and that no data had been recorded from its transmitter since March 5 or 6 when it was last recorded in the vicinity of our estate.
"The estate head keeper filmed what he firmly believes to be the eagle in question yesterday afternoon at 2.17pm and that film was sent to the wildlife crime officer later yesterday.
"The estate is shocked by the clear implication that the estate may have been involved in the disappearance of this eagle.
"We are appalled at the allegations made by RSPB and are in discussion with our legal representatives.
"We take our legal and wildlife responsibilities very seriously and our keepers are also fully aware of their responsibilities."
Convener of the Cairngorms National Park Authority (CNPA) and Aboyne, Upper Deeside and Donside councillor, Peter Argyle, said: "It is extremely sad to here this news. From a national park point of view the issue of raptors disappearing is something we are very, very focused on.
"The eastern Cairngorms seems to have a particular issue with raptors disappearing and it is something the national park is taking very seriously."
On April 10 2014, a white-tailed sea eagle – the first to be raised in the east of Scotland for 100 years – went missing above the North Glenbuchat Estate.
In 2011 a satellite-tagged golden eagle was also found illegally poisoned there, along with a dead short-eared owl and buzzard.
Tagged birds also disappeared in the area in February 2012 and May 2013.
A Spokesman for the Scottish Gamekeepers Association said: "The SGA learned of this case at mid-day, Friday, so know nothing at this stage.
"Our message is clear, though. If any SGA member is convicted of a wildlife crime, they will be removed from the organisation."
A spokesman for Scottish Land and Estates said: "We do not know if anything has happened to this bird but as a partner in the Partnership for Action Against Wildlife Crime (Scotland) we believe it is in everyone's interests that any potentially relevant information is provided to the police as soon as possible."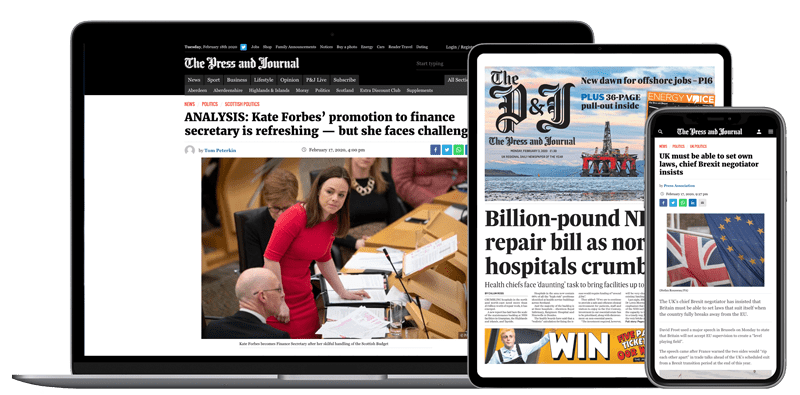 Help support quality local journalism … become a digital subscriber to The Press and Journal
For as little as £5.99 a month you can access all of our content, including Premium articles.
Subscribe