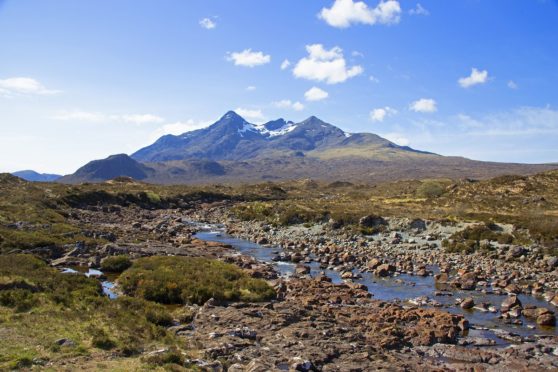 A report commissioned to look at the impact of a 125% growth in tourism in Skye, hopes to highlight to local government the way in which the island needs investment in basic facilities.
Destination management organisation, Skyeconnect has commissioned tourism research experts at the Moffat Centre for Travel and Tourism to look at the ongoing issues of hosting 500,000 visitors to the island – including congestion, lack of parking and where visitors can spend a penny.
The findings will help shape a tourism masterplan for the island for the next decade.
MP reports that tourist numbers on Skye have dropped because of publicity
Experts from Moffat will examine the impact the surge in numbers has had on the island's employment and the wider economy.
Marina Martinolli, project manager at the Moffat Centre, said: "We are addressing the issues being experienced on the island, some of these may seem like a hot potato.
"We are early in our discussions but issues such a toilets and parking are already becoming a common theme.
"Skye has had an unprecedented rise in visitor numbers, in  2010 the Office of National Statistics said 29,000 coming into the country stated Skye as their destination, in 2015 that had risen to 65,000.
"Investment and infrastructure seems to be a key theme for operators on the island.
"Alongside Edinburgh, Skye is now Scotland's most iconic visitor destination."
Researchers will quiz visitors in tourist hot spots for between two and four days every month between March and October . The results will be discussed at a public event in early 2020.
Alistair Danter, project manager for SkyeConnect, said: "The results will allow us to shape the strategy for tourism development on the island for the next decade."
Lower Deck restaurant owner Stuart Jackson said every year for the last five years has been busier than the last. He said a lack of toilets and parking was having a detrimental effect on visitors to the island.
He said: "As far as investment goes you can forget it.
"Unless it is in Inverness it will not happen. We need toilets and parking while they put money into some fancy dan statues. It is a chronic problem of complete mismanagement of one of Scotland's busiest tourist regions"
Highland Council said there had been £1,883,571 investment in Skye in 2018, including £363,571 at the Old Man of Storr for parking and toilets, £100,000 at the Fairy Pools, £65,000 at Neist Point and £95,ooo at Quiraing
A spokewoman continued: "Plus we just announced an extra £132,150 for road repairs yesterday as part of 19-20 budget."