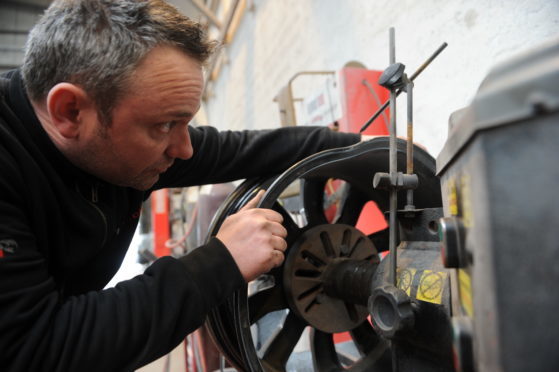 The number of repairs being required to wheels damaged by potholes on the roads has soared in the past three weeks.
The figures at garages across the north have risen by as much as 400%.
Hundreds of pounds are being forked out for cracked wheels, punctures and damaged spring caused by new craters on the Highland road network.
Highland Council's transport and infrastructure chairman, Allan Henderson, said the authority is working hard to protect its funding for road repairs in this week's budget meeting.
Jason Massie, 36, owner of Rimtech wheel refurbishment firm in Inverness, said he has been fixing three or four vehicles a day – 24 a week – compared to his usual five a week – adding that 30% of the defects have not been fixable.
The 36-year-old said: "We've had a massive influx in the past two to three weeks. I had about six or seven of the cars which went through a huge pothole at Muir of Ord (three weeks ago)."
One angry driver, Colin Mackay, described the pothole in Muir of Ord as the "size of a bathtub". The former lorry driver, 75, was told repairs – two new wheels, two new tyres and new suspension – to his Mercedes B200 Sport would cost £1,400-£1,500.
Mr Massie said customers are paying £50 plus VAT for their wheels to be straightened, and that wheel replacements cost anything from £60 to hundreds of pounds.
In the year to September, Highland Council received 220 claims for pothole-related vehicle damage, and 92 were accepted and £20,958 paid out.
A Bear Scotland spokeswoman blamed the recent freeze and thaw cycle and said its works could be brought forward.
A Highland Council spokeswoman said: "During low temperatures our roads teams are only able to undertake temporary pot-hole repairs using cold tar and they are undertaking as many of these as they can while also carrying out winter gritting duties.
Our programme of planned repairs using the council's jet-patcher plus other hired in equipment will commence from March when the weather improves and when there are no frosts."
Mr Henderson admitted the pothole problem is severe, but claimed the authority needs more Scottish Government funding.
He said: "There is a programme in place to get repairs going as soon as the weather allows.
"The most recent figures show that £156million is needed to bring Highland Council roads up to standard, but we are only working with a budget of £14-15million a year."
Neil Findlay, part-owner of Inverness Tyre Service Limited in Carsegate Road, said he had five cars arrive at his garage within the space of an hour one day last week with damage caused by potholes.
A Scottish Government spokeswoman said: "It is for councils to make funding decisions based on local priorities."
A Transport Scotland spokesman added: "A recent Audit Scotland report found 86% of trunk roads are in an acceptable condition."